Archive
Category: Catering
The holiday season is nearly upon us, and all around people are talking about pumpkin pie and cornbread
stuffing, green bean casserole and bread pudding — but not you. Whether by choice or by circumstance, your Thanksgiving meal must be gluten-free.
Bummer, right? Wrong.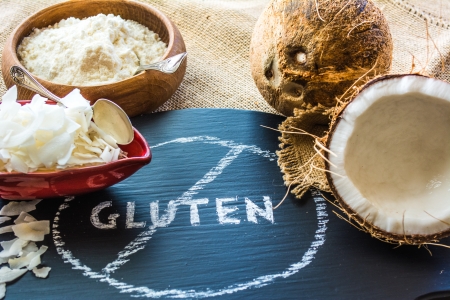 If you think you can't have a holiday dinner that is both completely gluten-free and down right delicious, think again. Whether you're looking for inspiration, or hoping to have Silver Spoon Caterers do the cooking for you this feasting season, know that gluten-free doesn't have to be synonymous with tasteless.
Appetizers
Tuscan Chicken Kabob
(served with a rosemary, lemon & olive oil sauce, skewered with cherry tomato)
Champagne Chicken Skewer
(served with a champagne vinegar, Dijon & maple sauce)
Duck-Bacon Wrapped Dates
(applewood smoked, filled with Brie — can be made with traditional pork bacon)
Sriracha Shrimp Cocktail
(with lime)
Ahi Tuna Skewer
(crusted with black and white sesame seeds, served with red chili aioli)
Entrees
Rosemary Thyme Chicken
(served with champagne & shallot sauce, with two sides)
Grilled Hanger Steak
(with a Dijon rub, pinot noir sauce, and two sides)
Carved Prime Rib
(premium Angus rib roast, with two sides)
Cracked Pepper Beef Tenderloin
(seared, with two sides)
Spiral Smoked Ham
(honey-smoked ham with a brown sugar glaze and two sides)
Pan Seared Halibut
(with Saffron Lemon Butter and two sides)
Side Dishes
Butternut Squash & Green Bean Medley
Roasted Kale & Yukon Gold Potatoes
Roasted Winter Root Vegetables
Corn on the Cob with Spanish Butter
Classic Mashed Potatoes
Silver Spoon Mac & Cheese
Mashed Maple Sweet Potatoes
Traditional Stuffing (YES, it's gluten-free!)
Rosemary Cardamom Basmati Rice
Kale Caesar Salad
Winter Farro Salad
Goat Cheese, Roasted Gala Apple & Cranberry Chopped Salad
Dessert
Minted Fruit Salad
(fresh fruit salad with a touch of mint; served with whipped cream)
Be prepared, and flexible.
Call Silver Spoon Caterers well in advance of your event, and have some idea in mind of what you'd like to serve. Maybe even bring a few recipe suggestions of your own. Your preparedness will help us ensure that your next gluten-free event is a huge success.
And this, we can't say enough: Be flexible. While we welcome, and encourage your participation in the menu design (It is your event after all.), we can't always replicate certain food items identically. But if you keep an open mind, we just might come up with something even more nutritious and delicious.
Category: Catering
For many Northern Virginia residents, autumn means longer nights, warm sweaters and comforting meals. This is the time of year when most of us make the switch from sweet berries and crisp vegetables, to warmer flavors such as sweet potatoes and pears. While produce can be shipped from any location in the world, local seasonal produce is better for the environment and is fresher and more nutritious.
Fall colors provide the perfect backdrop for a number of events. This time of year is ideal for weddings, holiday parties, fundraisers and galas. If you're looking for something extraordinary to offer at your event, consider the following autumn menu ideas.
Lasagna with Seasonal Squash and Vegetables
With its layers of gooey cheese, noodles and hearty sauce, you'd be hard pressed to find someone that doesn't like lasagna. Our delicious lasagna is made from a variety of seasonal vegetables. It's the perfect option for any event.
Silver Spoon Meatloaf
A plate of meatloaf and mashed potatoes has long been known as the "All American Meal". Although there is some debate about how it got this name, one thing is certain, meatloaf is an American favorite. Our version of this comforting classic is served with delicious Yukon gold mashed potatoes, veggie medley and dinner rolls with butter.
Seared Halibut
Switch up the protein this autumn with this delicious dish featuring seared halibut, hazelnut romesco with Yukon gold potatoes, lemon asparagus and a fresh garden salad. This gluten free meal is the perfect choice for fall.
Dutch Oven Short Ribs
Tender, boneless beef short ribs braised in craft beer are just the thing to warm you and your guests up this fall. These delicious short ribs are served with Yukon gold mashed potatoes, garden salad and dinner rolls with butter.
Silver Spoon Catering offers catering services for a variety of social and corporate events in Northern Virginia and the DC metro area. We offer autumn menu items for parties, holiday events, fundraisers, weddings, corporate events and more. We use local and sustainable ingredients whenever possible. Please contact us for more information about our catering services.
Category: Catering
When planning a meeting, it's important to consider the basic needs of your attendees. Providing food at work meetings is an excellent way to keep attendees focused and content. However, the type of food you offer can make a big difference to your meeting's success. For example, providing heavy foods like pizza or hamburgers can make your attendees tired. This makes it harder for them to stay focused on the meeting. A few carefully planned snacks will keep your attendees satisfied while improving their attention and focus.
Beverages
Soda can make attendees jittery. Serving sugary drinks increases the chance of a sugar high followed by a crash. This can cause problems if attendees must return to work after the meeting. Instead of soda, consider serving coffee and tea, bottled water, or apple and orange juice. Just make sure you keep the coffee fresh and have lots of bottled water on hand.
Snack Ideas
As the meeting planner, it is your job to decide what food to serve your guests. Although you'll probably serve a full meal if you expect your meeting to last all day, it's important to offer snacks as well. Serving snacks alone is appropriate if your meeting will only last an hour or two. Whatever the case, you'll want to have a few snacks ready before your meeting begins.
Fresh Vegetables
Fresh vegetables can help keep your attendees focused and satisfied. Consider serving a vegetable and hummus platter like our Hummus Trio. This platter comes with toasted flatbread, matchstick veggies, and classic, roasted red pepper, and pesto hummus. This is the perfect choice for every attendee, even vegetarians.
Sandwich Rolls
Sometimes a meeting requires a little more than vegetables and dip. Our Assorted Silver Dollar Sandwich Rolls provide a satisfying lunch that won't weigh down your attendees or make them feel tired. These bite-size sandwich rolls come with house chips and a cookie platter and can be made vegetarian to ensure the satisfaction of every attendee.
Chips & Dip
Chips provide a fast and convenient option for an afternoon meeting. Silver Spoon Caterers offers house-made tortilla chips paired with our house salsa and signature guacamole. We also offer the option to add our house chips and herb dip to your tortilla chip order.
Nuts
Nuts provide attendees with the energy they need to stay focused and alert. They also provide a convenient work meeting snack that doesn't make a mess. Silver Spoon Caterers' Nuts medley includes pistachios, hazelnuts, and honey roasted nuts served with individual Greek Yogurts.
Power Hour
Our Power Hour is the perfect choice for quick meetings that require the attention and focus of attendees. This option includes house-made granola bars, individual Greek yogurts, and a fresh fruit bowl.
Planning the snacks for your next meeting doesn't have to be difficult; it just takes a little thought and preparation. If you still aren't sure what to serve, Silver Spoon Caterers can help! Please contact us for more information about our corporate catering options.
Category: Catering
Your wedding day is one of the most special days of your life; you'll want to make sure that every detail is perfect. While choosing the right dress and rings are both extremely important, you'll want to take some time to select the perfect wedding cake as well. Aside from yourself and your spouse, the wedding cake is one of the most photographed features of your wedding.
Choosing the perfect cake depends on several factors including personal taste and style. If you're having trouble deciding, looking at what's trending might help. The following are a few of the most popular wedding cake trends for 2019.
Single Tier Cakes
It's becoming more common for couples to choose a few single tier cakes over the traditional, multi-tiered wedding cakes we all know and love. Not only does this trend cost less than a traditional wedding cake, it also allows couples to choose more flavors and styles.
Non-Cakes
It seems hard to believe, but many people simply don't like cake. This is a big part of the reason why non-cakes, or cakes made from alternative (non-cake) ingredients have become so popular over the past few years. This trend doesn't seem to be going anywhere either.
Today, we're seeing cakes made from a variety of ingredients including watermelon, donuts, and even cheese.
Alternative Shapes & Styles
Instead of traditional round layers, we're seeing more couples opting for geometric shapes, narrow tiers, and gravity-defying structural designs. It seems that nothing is off limits when it comes to the shape and design of modern day wedding cakes. Many of these new designs leaving us wondering how the baker managed to create it!
Ferns
Although people have been adding greenery to wedding cakes for years, ferns have started replacing more traditional choices this year. This eye-catching foliage looks fabulous when paired with a simple textured white buttercream.
Black Cakes
Black fondant covered cakes are one of the hottest wedding cake trends for 2019. It makes sense when you consider the fact that these stunning cakes go with pretty much any palette and provide a sophisticated and modern touch.
For a softer touch, we're seeing couples adding large flowers and pastel colors. Gold accents provide the perfect amount of glamour and glitz for those that prefer a bolder look.
Alternative Cakes
Not a fan of regular cake or frosting? Try switching it out with other types of cake. For example, serve your guests sponge cakes with flavored whipped cream or pound cake covered in glaze. These are just two examples of the types of cakes we're seeing at weddings this year.
Silver Spoon Caterers offers wedding catering for events located in the Washington DC Metro area. Our expert caterers have years of experience and work directly with you to create the perfect menu for your special day. We provide a wide range of choices including options for guests with dietary restrictions and requirements.
Please contact us for more information about our wedding catering services.
Category: Catering
As more people become concerned about their health and weight, it's becoming more important to offer a variety of food options at corporate events. This helps ensure everyone has something delicious to eat. When planning a corporate event, you'll want to choose a corporate caterer that can provide a wide range of menu choices including options for those with special dietary needs.
When choosing a corporate caterer to work with, look for a catering company with experience accommodating a variety of dietary requirements. Silver Spoon Caterers has years of experience providing corporate catering and nonprofit catering for businesses and nonprofit organizations throughout the DC Metropolitan area. We provide numerous options and our team is well prepared to help you create the perfect catering menu for your next corporate event.
About the Keto Diet
Over the past few years, the ketogenic (keto) diet has become one of the most popular diets in the United States. This is due to its profound effects on health and weight. The keto diet has been shown to help people shed excess pounds and improve certain conditions such as type 2 diabetes and cognitive decline. With all of its unique benefits, it's no wonder so many people are opting for this low-carb, high fat diet.
It's a good chance that one or more of the attendees at your next event follows the keto diet. Even if they don't, providing keto-friendly foods ensures you have something healthy everyone can enjoy.
Corporate leaders often find it difficult to keep up with dietary needs and requirements. If you aren't familiar with the keto diet, followers reduce the amount of carbs consumed to 5% of their total calorie intake, proteins to 20%, and increase fat consumption to 75% of their total calorie intake. While this seems counterproductive, it forces the body to utilize fat for energy as opposed to glucose, which is found in carbs. This helps fat melt away.
The following foods should be included when providing corporate catering for people following a keto diet:
Seafood
Fish provides important nutrients the body needs. It is also very low in carbs, making it ideal for people following a keto diet. The best choices include salmon, mackerel, and sardines.
Low-Carb Vegetables
Most vegetables have very few carbs and provide a wide range of vitamins and minerals. However, it's important to avoid starchy vegetables such as potatoes and beets which contain a high amount of carbohydrates. Best choices include cauliflower, broccoli, and kale.
Cheese
Naturally low-carb and high fat, cheese makes a wonderful addition to any corporate event. Serve cheese as is, or over low-carb vegetables for a special treat.
Meat and Poultry
Consuming meat and poultry provides the body with essential nutrients. It's also an excellent source of high-quality protein, which has been shown to help protect muscle mass in people following a keto diet.
Eggs
Eggs are naturally high in fat and low in carbs, making them perfect for anyone following a keto diet. When serving eggs, it's important to include the yolks as they contain most of the egg's nutrients.
Please contact Silver Spoon Caterers for more information about corporate catering for people following a keto diet.
Category: Catering
Corporate events provide the perfect opportunity to connect with employees, collaborate on projects, and discuss important business matters. While scheduling guest speakers and planning your agenda are both important to the success of your event, you also need to consider the food. Providing your guests with corporate catering keeps attendees focused on the discussion, as opposed to their grumbling stomachs.
Planning a Corporate Event
When ordering corporate catering, it's important to offer attendees a variety of options. Today, more people are switching to a vegetarian diet for health and a variety of other reasons. Offering a vegetarian option ensures all guests have something they can enjoy. It also provides a lighter option for guests that need to go back to work immediately following the event. The last thing you want is to offer menu options that negatively affect productivity!
At Silver Spoon Caterers, we offer a number of vegetarian options for corporate events. We understand that many people find it difficult to decide between our vegetarian choices. When selecting your catering menu, you'll want to consider the type of corporate event and how you plan to serve the food. For example, if guests must take notes or sit in chairs without tables while eating, sandwiches and other finger foods are a better option than pasta or other dishes that require more attention. Serve these types of meals if you plan to provide attendees with a designated time to eat at tables.
Vegetarian Catering – What to Choose
Vegetarian options do not include any meat, which many people consider an important part of their diet. In order to avoid disappointment, serve vegetarian dishes that stand alone as their own meal. Pasta is an excellent example.
It's also important to select dishes that use lots of different vegetables. Silver Spoon Caterers takes advantage of what's in season to ensure the freshest and tastiest vegetarian catering options. Our chefs understand the importance of using herbs and balancing flavors to create delicious vegetarian appetizers, sandwiches, and meals.
For the greatest selection, you might want to offer both meat and a vegetarian option. However, this is completely optional. Your attendees are sure to appreciate a variety of delicious options, regardless of whether they include meat or not.
Corporate Catering in Fairfax VA and DC Metro Area

When you contact Silver Spoon Caterers, we provide you with several vegetarian options to choose from. You will have the opportunity to select your menu based on the type of event and the preferences of your attendees. It's a good idea to have a general plan when calling. This helps simplify ordering and ensures everyone gets exactly what they want.
Silver Spoon Caterers offers corporate catering for meetings, corporate events, company picnics, holiday events, conventions, and more. We provide our catering services in many areas of Northern Virginia, Washington DC, and Maryland. Our vegetarian options include sandwiches, wraps, salads, appetizers, and entrees. You can view our complete menu on our website.
Please contact us for more information about our vegetarian corporate catering options.
Category: Catering
It's the happiest time of the year. No, not Christmas. And not summer vacation either. We're talking about the one, the only MARCH MADNESS.
You'll soon fill out your brackets, place your bets (with Monopoly money, of course), and pledged your allegiance to your team via your Facebook profile picture. All that's left to do now is to plan the party — or parties, if you're feeling especially festive this season. The giant television and the cable package that ensures you'll be able to watch every game; watch all the games. But that's not enough, not for this crowd, not this year. This year, you're planning to go all out.
You're on a mission:
You will create the best March Madness viewing party game plan.
And we're here to help.
Give everyone a seat at center court. Create a comfortable viewing area, all seats positioned with a front and center [court] view of the game. Bring in extra chairs, stools, ottomans, beanbag chairs, whatever you've got to make a place for all of your favorite sports fans. And don't forget to arrange surfaces on which to place food plates and coasters for glasses.
Invite your guests to arrive 30 minutes before game time. Get the catching up out of the way before the game starts, so once it does, all the talk around the court is limited to smack talk.
Decorate your viewing room for the fans. If you're all set to cheer on the same team, decorate with those colors; hang pennants, and flags, and posters. Mixed crowd? You might decide to decorate in a general basketball theme to avoid any inkling of a home court advantage — or you might not. After all, it is your party. Either way, encourage your favorite sports fans to wear the regalia of their favorite sports ballers.
If you have the room, add some fun to your décor by bringing in a pop-a-shot or portable basketball net; set it up out of the way of the viewing area and let guests play some hoops.
Food. Don't forget about the food. Half the fun of attending any sporting event is the food: pretzels, and hot dogs, and popcorn, oh my. Or maybe something like a Fajita Bar, a Taco Bar, a Pasta Bar, or a mix of all three is more your style. That's where the expertise of Silver Spoon Caterers comes in.
We've got just the nosh to get fans of all ages doing the wave:
Hire northern Virginia's special event caterer for the big game.
Category: Catering
No host wants to be in the position of running out of food at an event. But you also don't want to order too much and have it go to waste. And it's also likely that you don't cater to hundreds of events every year and know the rules of thumb for how much the average person will eat at a given event. Luckily for you, Silver Spoon Caterers is here to guide you.
Here are some handy tips to use while planning for your next event.
The amount of food you need to order depends on how long the event is and what time of day it's at, as well as the number of people attending. An evening cocktail party requires less food than an afternoon wedding reception with a dinner. The longer the event lasts, the more food and drink people consume.
The number of appetizers depends on whether you're serving another meal. Plan on 3-5 pieces per person if served pre-dinner, but make them lighter fare. If it's an afternoon event, 1-3 pieces may suffice. For an evening function, with no dinner, you'll need to plan for 10-15 pieces per person.
Round up, never down. People eat more when it's served buffet-style than when it's passed on trays.
Plan on roughly three beverages per person. Remember that people often have coffee after dinner, as well as throughout the day. (People tend to have a cup every hour and a half or so.)
The larger the variety of whatever you are serving, the smaller the portions should be, so that people can have a little of everything but not waste too much.
For a breakfast, plan on one main entree and two sides, and two beverages. If you're serving only pastries, assume two pastries per person.
For lunch, assume one entree, and 2-3 sides (this includes a dessert if you're serving one.) If you're offering hors d'oeuvres, plan for 2-4 per person.
Dinners are usually heavier than lunches, so the entree is generally a little larger. In addition to 2-3 sides, you'll also want to offer small portions of soup, bread, or salad.
This is just a small selection of general tips to help you in the preliminary stages of planning the meals for your event. If you have any specific questions, please don't hesitate to contact us. We'll be happy to answer your questions and provide you with a detailed quote.
Silver Spoon began as a family-owned business in Fairfax sixteen years ago. We take immense pride in knowing that we've been able to make your special event a success! We strive to be the very best caterers in the business. Whether you're planning an indoor concert hall or outdoor patio wedding we can help! We have the staff and experience to make it a success!
Category: Catering
By the end of January, let's be honest, nearly everyone has already fallen off the New Year's resolution wagon. But not you. Not this year. You're committed to make healthier food choices, and that means catering healthy meals too. As your premier corporate event caterer, we hear it all the time: "It's so hard to eat healthy when I'm constantly attending banquets, and networking events, and dinners out with clients." And the truth is, while it may sometimes be more difficult to do so, it's not impossible.
Choose healthy catering options for your next corporate function.
Opt for whole-grain (over white) bread, rice, or pasta — that's a big one. Use low-fat, low-salt, and reduced-sugar alternatives. And three: Serve fresh fruit and vegetables. It's really that easy. Not convinced? Let's get specific.
Breakfast
Even your Fairfax VA healthy catering partner can recognize that breakfast gets tricky. Say, "catered breakfast" and what do people expect? Pastries, that's what people expect. And pastry, you can provide when you opt for items like whole grain muffins, or scones.
Consider a few other healthy breakfast options:
Cereal — Think whole grain, like Raisin Bran or Corn Flakes.
Fruit — Serve fresh, seasonal fruit in a salad, whole, or in pieces.
Yogurt — Some like it plain; others like it flavored. Opt for low- or no-fat varieties.
Eggs — Scramble them. Boil them. Poach them. Or serve omelets.
Vegetables — They're not just for lunch and dinner any more.
Hot Dishes
You already know the basics: Less processed junk, and more real food. It's how you eat at home, and it's what we'll serve your guests.
Soup — Choose vegetable or legume-based soups, and broth over cream.
Vegetables — They're great, and they're yummy to the tummy any time of day! They can be steamed, microwaves, grilled or roasted.
Pasta — Yes, pasta! As long as it's whole grain. Opt for tomato or vegetable-based sauces, and use only small amounts of low-fat cheese.
Meat — It's all about the meats: Beef, lamb, pork, poultry. Choose lean cuts, and opt for low-fat cooking methods (grilled or roasted) over other methods that require the addition of fat. Serve hot entrée dishes with healthy side items like a salad, fresh vegetables or a baked potato.
Even dessert can be healthy when you choose fruit.
Silver Spoon Caterers makes fresh, seasonal fruit tarts and pie — just decadent enough to be delicious.
When you're planning your next corporate event and searching for healthy catering options but aren't willing to sacrifice flavor, call Silver Spoon Caterers.
Let's talk about how healthy food choices can look, and taste great, too.
Category: Catering
Your Fourth of July barbecue is great; all that Halloween candy was, too. Thanksgiving turkeys are so… yesterday. And do you know what that means? That means…
Christmastime is here! It's the happiest time of the year!
And do you know what that means? That means…
The time for Christmas parties is here!
Everyone knows the secret to a great party is great food, but why throw a great party with great food when you can throw an amazing holiday party with great food and an even greater theme?!
Consider one of these party themes, and let Silver Spoon Caterers do the cooking.
The Nightmare Before Christmas party
No one ever said Christmas has to be all sugarplums and red-nosed reindeer; and if they did, no one ever told Tim Burton. Channel your inner Jack Skellington for a party so peculiar your guests will never forget.
Serve a traditional old English menu of roasted bird (Maybe turkey's not so yesterday.), vegetables, salad, and soup. Invite a great many, or make room for just a few; gather 'round a fireplace, on armchairs and couches, and surround yourself with ominous melodies befitting the occasion.
Santa's Workshop party
At Christmastime, and all year round, there's nothing more rewarding than giving to, and caring for those less fortunate than we. Channel your inner Santa Claus, and transform your home (or any other party venue) into a workshop that brims with [donated] toys for all the girls and boys. String lights and garland; relocate the North Pole, and maybe, just maybe — if you're extra special nice — the big guy himself will let you borrow his sleigh for the occasion.
Serve a menu of passed hors d'oeuvres (Might we suggest Honey-Glazed Chicken Lollipops?), classic salads, and plated entrees.
And as for dessert? You absolutely must leave cookies out for Santa!
White Christmas party
White is the color of snow. White is the color of elegance. Channel your inner Bing Crosby, and throw an extravagantly elegant white Christmas party. Think white linens, white china, white décor; you might even consider requesting that your guests come dressed in all white.
Serve all-white food (chicken, white asparagus, and cheesecake for dessert, perhaps?) and craft a few all-white cocktails.
When it comes to throwing an amazing holiday party with great food, the limits are few, and your options are many — especially when Silver Spoon Caterers gets involved, so give us a call, and let's talk turkey (or maybe even pheasant).