Archive
Category: Catering
Thanksgiving provides the perfect opportunity to thank staff for their hard work. This is especially true this year, as many employees have had to work through strange and potentially unsafe conditions caused by the global pandemic. For essential workers, staying home simply isn't an option. Employers should take Thanksgiving as an opportunity to show their staff how much they truly appreciate them.
Providing a holiday meal is an excellent way to thank staff for their hard work and for not taking their vacation the week of Thanksgiving. However, it's important that employers adhere to safety guidelines and recommendations to prevent the spread of disease.
Corporate Catering During the Pandemic
Most people agree that it's not a good idea to offer meals buffet-style during the pandemic. Instead, employers should consider offering boxed lunches or other pre-packaged meals to staff. These individually packaged meals allow for adequate social distancing. This is a great way to say thanks, while keeping everybody safe.
Although employers may want to prepare a holiday feast themselves, this isn't advised. Catering companies, like Silver Spoon Caterers, understand how to prepare and package food safely and staff members often feel safer eating food prepared by a professional caterer. Fortunately, there are several safe catering options employers can offer during the week of Thanksgiving.
Keeping Everybody Safe
Although events have officially resumed in Virginia, it's still recommended to keep attendance to a minimum. Employers should only offer meals to employees during their work day. It's also important to ensure employees have enough space to social distance.
Instead of offering one meal time for every employee, employers might want to offer meals to small groups at different times throughout the day. This helps prevent overcrowding in the break room and ensures everyone gets a chance to enjoy a special meal.
When serving staff, it's important to keep in mind that different people have different dietary needs and requirements. Many times, vegetarians and individuals with food allergies must miss out because employers don't provide them with anything safe to eat. It's important to offer a variety of options including vegetarian, vegan, and gluten free choices. This helps ensure everyone leaves work fully satisfied.
Thanksgiving Catering
Silver Spoon Caterers offers several corporate catering options. Employers can choose between breakfast, lunch, dinner, and appetizers. Boxed meal options include breakfast boxed meals, sandwich boxed lunches, individually boxed mixed grill salads, and a variety of entrees. Each single boxed meal is freshly prepared by an experienced chef shortly before delivery. All lunch and entrée boxed meals come with dessert.
An excellent option for Thanksgiving, meetings, or anytime employers want to let their staff know how much they're appreciated, Silver Spoon Caterers' Single Boxed Menu features a variety of favorites as well as several vegan, vegetarian, and gluten free options.
Silver Spoon Caterers strives to provide exceptional service and high-quality food to individuals and businesses throughout Northern Virginia and the D.C. metro area. Please contact us to learn more about our boxed meals and safe corporate catering options.
Category: Catering
The dog days of summer are upon us and with it comes gatherings and parties (with social distancing of course)! This time of year brings baby showers and weddings, birthday parties and of course summer barbecues. You're getting excited to show off your brand new patio; to break out your favorite serving dishes; and to throw the affair of the season… when somebody says those two little words: gluten free.
Accommodating guests with dietary restrictions can be tricky, but especially when you're planning to host someone with celiac disease: It's important to understand that his or her gluten-free diet is more than a lifestyle choice, but a medical necessity. The adequate, safe preparation of a gluten-free meal depends upon more than a few modification to the regular menu; think cross contamination.
Even the slightest bit of gluten from a bowl, a spoon, or cooking oil can cause a person with celiac disease to react. It's not enough to simply remove the croutons from the salad, but you must make a separate salad entirely, separate entrees and desserts, too. That's why Silver Spoon Caterers recommends leaving the cooking to the professionals. That is to say, us.
Silver Spoon Caterers is experienced in catering to the gluten-free crowd; we take pride in developing delicious menus to suit every dietary restriction and delight the palate.
Tasty (& totally gluten-free) menu options from your Fairfax VA party caterer
Appetizers
Hummus — served with fresh cut vegetables
Grilled vegetable tray — eggplant, zucchini, squash, red pepper and red onion marinated and grilled
Beef medallions — shoulder tenderloin sliced and topped with caramelized onion & balsamic reduction, garnished with roasted red pepper
Cocktail Shrimp — served with lemon wedges and cocktail sauce
Antipasto — skewered antipasto, green olive, roasted pepper, artichoke, sliced salami with vegetable crudité and roasted pepper dressing
Entrees
Mesquite roasted turkey breast — with black bean and corn salsa, served with roasted sweet potato spears, grilled mixed vegetables, tomato & cucumber salad
Greek-style chicken kabobs — with bell peppers and onions, accompanied by a Greek salad and tzatziki sauce
Mediterranean chicken — seasoned with fresh herbs, stuffed with roasted red pepper, crumbled feta cheese, chopped kalamata olives and fresh basil; served with a vegetable medley
Mediterranean mixed grill — beef kebabs and chicken souvlaki served with tzatziki sauce and market vegetables, accompanied by hummus
Hungry for a gluten-free catered meal in Fairfax Virginia?
While gluten-free eating continues to grow in popularity (and, for some, necessity) try to remain flexible when planning to serve the rye-averse and carb connoisseurs alike. Call Silver Spoon Caterers with plenty of advance notice, and come to us with some idea of what you'd like to serve; not only will your flexibility and preparedness make our jobs easier, it's also the best way to ensure everyone leaves the party happy, fed, and healthy.
Category: Catering
As we move through Phase 1 and Phase 2 of "reopening", businesses must ensure their employees have a safe work environment and remain healthy, this includes when your company needs catering services.
Silver Spoon Caterers is taking all necessary precautions to ensure the safe preparation of their corporate catering services including offering single boxed meals. We are following all CDC and FDA recommendations regarding cleaning procedures and the safe handling of food. Silver Spoon Caterers ensures all meals are prepared and delivered in a safe and sanitary manner.
As we try to get back to semi-normal business operations, you have many things to consider when planning a corporate event. In addition to guest speakers and schedules, it's important to think about the food you serve as well. Although attendees aren't likely to expect a full four course meal, they will expect you to provide them with something to eat. It is up to you whether the food you serve will come from a restaurant or a corporate catering company.
While both restaurants and corporate caterers can provide a wide range of high quality food options, ordering from a catering company helps ensure your event runs as smoothly as possible. Restaurants simply deliver food in bags and boxes, leaving set-up, serving, and clean-up to those running the event. A corporate catering company takes care of everything for you, ensuring safe food preparation and all attendees leave fully satisfied.
Corporate Event Caterers
Corporate caterers understand the importance of keeping corporate events on schedule. They work directly with event planners to determine the perfect timing and menu. On the day of the event, they send enough people to prepare the space, serve the food, and clean up after the meal. This ensures meals don't run into important meetings. It also takes the stress of food off event planners, allowing them to focus on other important aspects of the event.
Allergies & Dietary Requirements
Allergies and special dietary requirements are one of the biggest challenges when planning the food for a corporate event. It's important to make sure you have enough choices for all attendees, even those with allergies or special diets. Experienced corporate caterers will help you plan your menu accordingly, making sure you have a variety of options including allergy-friendly, gluten free and vegetarian choices. This can go a long way towards the success of your event.
Determining How Much Food Your Corporate Event Requires
Restaurants typically provide food in large containers. Event planners must remove the food and place it in warmers or serving platters. In addition to set-up, it is up to the event planner to determine how much food they think attendees will eat. During the event, attendees serve themselves while the event planner "hopes" they guessed correctly.
Corporate caterers cater numerous events each year. They know how much food attendees will need. In order to ensure proper proportions, corporate caterers can serve the food to attendees. They can also provide pre-packaged lunch boxes. This helps ensure everyone at the event gets enough food.
Northern Virginia Corporate Catering Services
Silver Spoon Caterers offers corporate catering for a wide range of corporate events. Our team has years of experience and knows how to ensure all guests meals are prepared and served following strict sanitary guidelines. We offer several different menu options which include plenty of vegetarian, peanut-free, and gluten free choices. In addition to boxed lunches and sandwich platters, we also offer breakfast buffets, board dinners, hot entrees, salads, happy hour catering, and more. No matter what your company requires, Silver Spoon Caterers has it covered!
Please contact us or call (703) 935-4531 for more information about our corporate catering services.
Category: Catering
Herndon, VA – Silver Spoon Caterers, a leading catering company headquartered in Northern Virginia, announced this week they are offering single boxed meals for delivery to businesses throughout the Washington DC area. The boxed meals provide a safe and sanitary breakfast and lunch options for essential workers and other employees as they return to the office.
Companies and residents can order Silver Spoon Caterers' single boxed meals for direct delivery to corporate locations, police stations, fire stations, medical facilities, and other essential businesses in the Washington DC area. In addition to providing a safe option for employees and essential workers, the single boxed lunch boxes provide an excellent way for employers and residents to thank the people that continue providing essential services to the community throughout the COVID-19 pandemic.
Silver Spoon Caterers is taking all necessary precautions to ensure the safe preparation of their single boxed meals. The Company is following all CDC and FDA recommendations regarding cleaning procedures and the safe handling of food. Silver Spoon Caterers ensures all meals are prepared and delivered in a safe and sanitary manner.
Boxed meals provide a satisfying and convenient option for businesses any time of the year. Employees can easily "grab and go" a boxed breakfast or lunch, allowing them to eat during meetings and between shifts. During the COVID-19 outbreak, boxed meals provide essential workers and employees with access to delicious and satisfying food, without putting employee health and safety at risk. Corporate catering services like Silver Spoon Caterers' box meal service eliminates the need for employees to use communal cooking and eating spaces.
Silver Spoon Caterers offers a wide range of boxed meals including allergy friendly, gluten free, and vegetarian meals. Residents and employers can choose between a assortment of breakfast options, Deluxe Box Lunch, Simple Box Lunch, and a variety of Entrée Salad Box Meals. Each boxed meal provides just the right amount of food to keep employees energized and focused throughout their shift.
"We are excited to offer boxed meals to our essential workers," said Audrey Lustre, Owner of Silver Spoon Caterers. "We're hearing that a lot of workers aren't eating due to busy schedules and safety concerns. Our Boxed Meals ensure workers get a nutritional meal that they can eat on the go, while minimizing their contact with others. We think this will provide an excellent solution for businesses as employees return to work."
As essential employees around the world struggle to provide essential services with limited resources, mealtimes often go forgotten. Reduced staff and long hours can cause employees to skip breakfast or lunch. This is especially true for workers concerned about the safety of food left in communal office spaces where other employees can touch it. Unfortunately, skipping meals can negatively affect employee health and productivity. Silver Spoon Caterers' Boxed meals provide a safe and sanitary way to ensure employees get a nutritious meal.
Please visit Silver Spoon Caterers website for more information about their single boxed meals: https://www.silverspooncaterers.com/order-boxed-meals-for-essential-employees/
About Silver Spoon Caterers
Located in Herndon, Virginia, Silver Spoon Caterers provides corporate catering and event catering to businesses and individuals throughout the DC area. An experienced catering company, Silver Spoon Caterers assists with every step of the process from menu creation to set-up and serving. The Company offers a wide range of reasonably priced, high quality menu options including several allergy-friendly and vegetarian choices.
Originally Released on: http://www.prweb.com/releases/northern_virginia_catering_company_offers_boxed_meals_to_dc_area_businesses/prweb17111803.htm
Category: Catering
Boxed lunches are the perfect grab-n-go way to safely serve our #essentialworkers while limiting contact. Consider sending Silver Spoon boxed lunches to your local first responders, sanitation, food service, or other essential workers to show them you appreciate them!
Choosing the right Catering Company to deliver your employee's food is very important. There are a lot of things to consider. Not only will SilverSpoon accommodate allergies, but we'll also ensure the food is prepared and delivered in a safe and sanitary manner.
Visit our box lunch page to see a list of everything we offer and place an order.
Boxed Lunches
Minimum of 8. Sides must be the same for the group.
Deluxe Box Lunch $15.25
signature sandwich or wrap
two sides
cookie
Upgrade to dessert bar/brownie add $1.00
Upgrade to Silver Side Choice add $0.75
Simple Box Lunch $13.50
signature sandwich or wrap
house chips or side salad
cookie
Upgrade to dessert bar/brownie add $1.00
Upgrade to Silver Side Choice add $0.75
Side Choices: Classic Caesar Salad, Garden Salad, Greek Salad, House Salad, Southwestern Salad, Orecchiette Pasta Salad, Mezze Penne Pasta Salad, House Slaw, Yukon Gold Potato Salad, Greek Potato Salad, House Chips
Upgraded Silver Side Choices: Japanese Niwa Salad, Fruity Nutty Salad, Strawberry & Feta Garden Salad, Cali Cobb Salad, Gluten Free Pasta Salad, Sesame Ginger Lo Mein Salad, Loaded Baked Potato Salad, Orzo Caprese Pasta Salad, Pesto Pasta Salad, Italian Farro Salad, Southwestern Farro Salad, Tuscan Grilled Vegetables, Fresh Fruit Salad, Quinoa Salad, Roasted Veggie Penne Salad, Green Bean Salad
Entree Salad Boxed Lunches
Minimum of 8 people.
All served as individual entree salads with dinner roll.

Classic Chicken Caesar $9.50
grilled chicken, Parmesan, grape tomatoes, red onion, house croutons with classic Caesar dressing (can be made GF)

Crispy Chicken w/Chevre & Candied Walnuts $10.50
crispy chicken, chevre, glazed walnuts, grape tomatoes, and cucumbers with balsamic vinaigrette N (Can be made GF)
Southwestern Steak $12.95
seared flank steak*, avocado, red bell peppers, cheddar jack, and tortilla strips with ranch and salsa (Can be made GF)
Ahi Tuna Nicoise $14.50
seared Ahi tuna*, hard-boiled egg, kalamata olives, red bell peppers, cucumbers, and grape tomatoes with Italian vinaigrette GF
Grilled Shrimp Cobb $14.50
grilled jumbo shrimp, Applewood bacon, hard-boiled egg, chevre, bell peppers, and grape tomatoes with Italian vinaigrette GF
Category: Catering
Everyone loves a good party. Although it might not be possible to throw a full St. Patrick's Day celebration in your office, providing a special treat lets your staff know you appreciate all that they do. Providing staff with a catered meal not only helps keep them motivated and alert throughout the day, it also helps improve your bottom line. Corporate catering increases employee satisfaction, reducing turnover rate and increasing staff productivity. When staff members feel valued and appreciated, they're much more likely to work harder.
St. Patrick's Day is all about good luck and good food. This makes it the perfect holiday to celebrate in the office. Silver Spoon Caterers can help you create a catering menu your office won't forget. We provide several different menu options and choices, including options for those with special dietary needs or restrictions. Our staff handles everything for you, allowing you to continue doing what you do best.
Although we always encourage our customers to let their imagination guide their choices, the following St. Patrick's Day office catering ideas can help get you started.
Office Participation
Although this doesn't have to do with food, getting the entire office involved can build excitement and set the stage for a successful (and productive) day. Encourage staff to wear green on March 17th. You can even offer a small prize like chocolate coins to the staff member that wears the most green.
Consider hanging simple decorations around the office like green shamrocks cut out of construction paper. You can also put out Irish Crème flavored coffee creamer by the coffee pot for an extra special treat.
Focus on Green When Selecting the Food for Your St. Patrick's Day Office Event
Consider serving green and Irish themed dishes when selecting the catering menu for your St. Patrick's Day event. Salads, spinach wraps, and corned beef sandwiches all make excellent choices. If you don't want to serve an entire meal, consider colorful fruit or vegetable trays set out on green tablecloths.
When you work with Silver Spoon Caterers, we work directly with you to help plan the perfect meal. Please let us know when calling that you're planning a St. Patrick's Day office event. Our staff will take the time to listen to your requests and help you plan your catering menu.
We Take Care of the Hard Stuff
Office parties take a lot of planning. In addition to planning menus and working around office schedules, there's a lot of set-up and clean-up the day of the event. Hiring a catering company allows you to focus on your business, instead of planning your event. An experienced corporate caterer like Silver Spoon Caterers, helps plan the menu, prepare the food, and can even help with set-up and clean-up after the event.
DC Area Office Catering
Silver Spoon Caterers offers corporate catering services for office parties, luncheons, corporate events, and more. We offer office catering to businesses located throughout the Washington Metropolitan Area. Please contact us for more information about our office catering services.
Category: Catering
By the end of January, let's be honest, nearly everyone has already fallen off the New Year's resolution wagon. But not you. Not this year. You're committed to make healthier food choices, and that means catering healthy meals too. As your premier corporate event caterer, we hear it all the time: "It's so hard to eat healthy when I'm constantly attending banquets, and networking events, and dinners out with clients." And the truth is, while it may sometimes be more difficult to do so, it's not impossible.
Choose healthy catering options for your next corporate function.
Opt for whole-grain (over white) bread, rice, or pasta — that's a big one. Use low-fat, low-salt, and reduced-sugar alternatives. And three: Serve fresh fruit and vegetables. It's really that easy. Not convinced? Let's get specific.
Breakfast
Even your Fairfax VA healthy catering partner can recognize that breakfast gets tricky. Say, "catered breakfast" and what do people expect? Pastries, that's what people expect. And pastry, you can provide when you opt for items like whole grain muffins, or scones.
Consider a few other healthy breakfast options:
Cereal — Think whole grain, like Raisin Bran or Corn Flakes.
Fruit — Serve fresh, seasonal fruit in a salad, whole, or in pieces.
Yogurt — Some like it plain; others like it flavored. Opt for low- or no-fat varieties.
Eggs — Scramble them. Boil them. Poach them. Or serve omelets.
Vegetables — They're not just for lunch and dinner any more.
Hot Dishes
You already know the basics: Less processed junk, and more real food. It's how you eat at home, and it's what we'll serve your guests.
Soup — Choose vegetable or legume-based soups, and broth over cream.
Vegetables — They're great, and they're yummy to the tummy any time of day! They can be steamed, microwaves, grilled or roasted.
Pasta — Yes, pasta! As long as it's whole grain. Opt for tomato or vegetable-based sauces, and use only small amounts of low-fat cheese.
Meat — It's all about the meats: Beef, lamb, pork, poultry. Choose lean cuts, and opt for low-fat cooking methods (grilled or roasted) over other methods that require the addition of fat. Serve hot entrée dishes with healthy side items like a salad, fresh vegetables or a baked potato.
Even dessert can be healthy when you choose fruit.
Silver Spoon Caterers makes fresh, seasonal fruit tarts and pie — just decadent enough to be delicious.
When you're planning your next corporate event and searching for healthy catering options but aren't willing to sacrifice flavor, call Silver Spoon Caterers.
Let's talk about how healthy food choices can look, and taste great, too.
Along with great food and catering options our pricing is up front and simple to understand. There's nothing more frustrating than expecting to pay one price but being charged another. The best way to avoid this type of situation is to work with a caterer that is up front about their fees.
Northern Virginia Company Catering
The service your caterer provides can leave a lasting impression on your guests. This is why it is so important to select a caterer you can trust. Silver Spoon Caterers provides catering services for a variety of events in Northern Virginia, Maryland and Washington DC. Our professional caterers have years of experience with corporate events of all shapes and sizes.
We offer a wide variety of menu options and are happy to accommodate dietary restrictions. We understand that planning a company event is stressful. Our company catering services allow you to focus your attention on other important aspects such as team building and special guests. Please contact us for more information about company catering services.
Category: Catering
A company Christmas party provides your employees with a unique opportunity to get to know each other and your company. This can significantly boost employee morale.
When planning your holiday party, the food is one of the first things you'll need to consider. Planning menus, shopping for ingredients, preparing food and serving guests takes a lot of time and effort. In fact, it's often the most stressful part of planning a company party.
The right caterer can make your party a success. Hiring a caterer allows you to focus on other important aspects of your event. This makes it possible to throw a Christmas party that your guests are sure to remember.
The right holiday theme can help take your company party from ordinary to extraordinary. Your guests are sure to appreciate the extra effort you put into planning. The following are our favorite company Christmas party themes.
Masquerade Ball
Throw a truly magical company party with this fun theme. Encourage your guests to come adorned with their own decorative masks. A masquerade ball theme includes traditional Christmas colors with lots of gold and purple thrown in. This type of party calls for appetizers, hors d'oeuvres and finger foods. We have a number of options for you to choose from on our holiday catering menu.
Santa's Workshop
Get your employees into the Christmas spirit with a holiday party that encourages giving. Have your employees and their guests each bring a toy to be donated to a local toy drive. Decorate your venue with red and white, twinkling lights and festive greenery. Offer your guests comforting entrees such as Parmesan crusted chicken or bourbon maple glazed ham.
White Christmas
Transform your party into a winter wonderland. Decorate with white ornaments, white linens, white tableware and sprigs of flocked greenery. Offer your guests light colored dishes for the best effect. Good choices include cauliflower steaks and a roast turkey feast.
Silver Spoon Catering offers holiday catering services for company parties. Our holiday catering menu features a number of choices including gluten free and vegetarian options. Please contact us for more information about holiday party catering.
Category: Catering
The holiday season is nearly upon us, and all around people are talking about pumpkin pie and cornbread
stuffing, green bean casserole and bread pudding — but not you. Whether by choice or by circumstance, your Thanksgiving meal must be gluten-free.
Bummer, right? Wrong.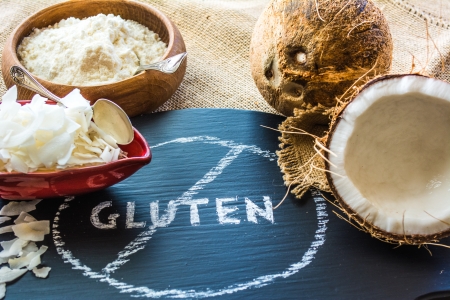 If you think you can't have a holiday dinner that is both completely gluten-free and down right delicious, think again. Whether you're looking for inspiration, or hoping to have Silver Spoon Caterers do the cooking for you this feasting season, know that gluten-free doesn't have to be synonymous with tasteless.
Appetizers
Tuscan Chicken Kabob
(served with a rosemary, lemon & olive oil sauce, skewered with cherry tomato)
Champagne Chicken Skewer
(served with a champagne vinegar, Dijon & maple sauce)
Duck-Bacon Wrapped Dates
(applewood smoked, filled with Brie — can be made with traditional pork bacon)
Sriracha Shrimp Cocktail
(with lime)
Ahi Tuna Skewer
(crusted with black and white sesame seeds, served with red chili aioli)
Entrees
Rosemary Thyme Chicken
(served with champagne & shallot sauce, with two sides)
Grilled Hanger Steak
(with a Dijon rub, pinot noir sauce, and two sides)
Carved Prime Rib
(premium Angus rib roast, with two sides)
Cracked Pepper Beef Tenderloin
(seared, with two sides)
Spiral Smoked Ham
(honey-smoked ham with a brown sugar glaze and two sides)
Pan Seared Halibut
(with Saffron Lemon Butter and two sides)
Side Dishes
Butternut Squash & Green Bean Medley
Roasted Kale & Yukon Gold Potatoes
Roasted Winter Root Vegetables
Corn on the Cob with Spanish Butter
Classic Mashed Potatoes
Silver Spoon Mac & Cheese
Mashed Maple Sweet Potatoes
Traditional Stuffing (YES, it's gluten-free!)
Rosemary Cardamom Basmati Rice
Kale Caesar Salad
Winter Farro Salad
Goat Cheese, Roasted Gala Apple & Cranberry Chopped Salad
Dessert
Minted Fruit Salad
(fresh fruit salad with a touch of mint; served with whipped cream)
Be prepared, and flexible.
Call Silver Spoon Caterers well in advance of your event, and have some idea in mind of what you'd like to serve. Maybe even bring a few recipe suggestions of your own. Your preparedness will help us ensure that your next gluten-free event is a huge success.
And this, we can't say enough: Be flexible. While we welcome, and encourage your participation in the menu design (It is your event after all.), we can't always replicate certain food items identically. But if you keep an open mind, we just might come up with something even more nutritious and delicious.
Category: Catering
For many Northern Virginia residents, autumn means longer nights, warm sweaters and comforting meals. This is the time of year when most of us make the switch from sweet berries and crisp vegetables, to warmer flavors such as sweet potatoes and pears. While produce can be shipped from any location in the world, local seasonal produce is better for the environment and is fresher and more nutritious.
Fall colors provide the perfect backdrop for a number of events. This time of year is ideal for weddings, holiday parties, fundraisers and galas. If you're looking for something extraordinary to offer at your event, consider the following autumn menu ideas.
Lasagna with Seasonal Squash and Vegetables
With its layers of gooey cheese, noodles and hearty sauce, you'd be hard pressed to find someone that doesn't like lasagna. Our delicious lasagna is made from a variety of seasonal vegetables. It's the perfect option for any event.
Silver Spoon Meatloaf
A plate of meatloaf and mashed potatoes has long been known as the "All American Meal". Although there is some debate about how it got this name, one thing is certain, meatloaf is an American favorite. Our version of this comforting classic is served with delicious Yukon gold mashed potatoes, veggie medley and dinner rolls with butter.
Seared Halibut
Switch up the protein this autumn with this delicious dish featuring seared halibut, hazelnut romesco with Yukon gold potatoes, lemon asparagus and a fresh garden salad. This gluten free meal is the perfect choice for fall.
Dutch Oven Short Ribs
Tender, boneless beef short ribs braised in craft beer are just the thing to warm you and your guests up this fall. These delicious short ribs are served with Yukon gold mashed potatoes, garden salad and dinner rolls with butter.
Silver Spoon Catering offers catering services for a variety of social and corporate events in Northern Virginia and the DC metro area. We offer autumn menu items for parties, holiday events, fundraisers, weddings, corporate events and more. We use local and sustainable ingredients whenever possible. Please contact us for more information about our catering services.