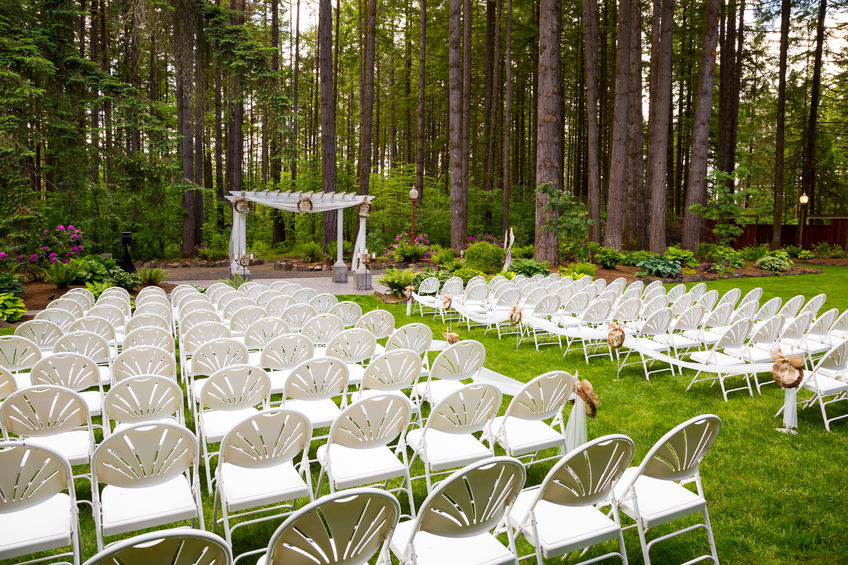 Looking for the right caterer for your wedding? There are few things you want to consider. Aspects like the style and theme of your wedding, different kinds of menus, and the costs associated with each part of your catering should all be top of mind considerations. Your caterer should also be one of the first service providers you book for your wedding, as many popular caterers are booked up to a year in advance.
As you continue the planning process for your big day, here are 11 things you want to consider when hiring a wedding caterer.
Catering Costs
The factors that make up your catering costs include your guest list, your venue, your food and alcohol services, and staff. For a guest list of 100, you can expect to pay between $8,500 to $10,000 for food, with alcohol costing up to $5,000 for an open bar for 100 guests. This is for a nice, but standard wedding catering package.
When it comes to more luxurious wedding catering, you can expect to pay $20,000 or more for your food. Your catering company will likely provide a full bar service that does not unlimited drinks. This is often a cheaper option as it's based on consumption, but it can be difficult to accurately estimate how much alcohol your guests will drink.
What is the Theme of Your Wedding?
From large deluxe galas to intimate backyard gatherings, every wedding has a theme, even if it's subtle. What's yours? Are you planning something dressy or something casual? For the more refined wedding, you may want to consider beautifully presented and eliquate Hors d'oeuvres and higher end dinner meals. For more intimate and casual gatherings of your closest friends and family coming together to celebrate your big day, a buffet style of delicious comfort food might work better.
Whether you're hiring a professional catering outfit, or just ordering large portions from your favorite soul food purveyor, the personality and style of your wedding caterer should blend well with your theme.
The Right Menu
There are as many possible menu options as there is catering business and restaurants. Each vendor will offer something slightly different. As you begin your search for your wedding caterer, make sure to schedule tastings of their most popular offerings. Do this before signing a contract.
Your big day is ultimately about you and your partner, so if you find a few dishes that you absolutely love from a particular caterer, then your guests will likely love it as well. Just make sure it matches the theme of your wedding. You don't want greasy finger foods for your black tie affair, and you don't need to spend money on luxurious appetizers and entrees for a small get together of your closest loved ones.
You also want to inquire about dietary restrictions such as vegetarian or gluten free. Most caterers offer both of these options, but some charge an extra fee for doing so.
Licensing
This one might seem simple, but it is often overlooked. You want to make sure that the caterer you hire is properly licensed to serve food and alcohol. This is a safety precaution to ensure your guests are served food prepared by caterers that have thoroughly passed health code regulations. When it comes to serving alcohol, you want your caterer to carry liquor liability insurance. This will help protect you if one of your guests gets injured after having too much to drink at your wedding.
Alcohol Services
If your caterer does offer licensed alcohol services, you will want to inquire about how they structure their alcohol prices. Some vendors charge per legal adult guest, while others charge by consumption. Which one is more cost effective will likely depend on your RSVPd guest list. If you are planning on a large amount of alcohol consumption at your wedding, you will want to make sure there are enough bartenders to keep all your guest's glasses full. Your catering packaging might include a set number of bartenders and there may be an extra charge for bar staff above that number.
The ideal ratio for bar and waitstaff to guest count is four cocktail servers per 100 guests, and one bartender per 50 guests.
Double Booking
Ask your caterer if they double book events on the same day or weekend. Specifically, do they have another event booked for the same day of the wedding. This is by no means a deal breaker as many catering companies employ enough staff to handle multiple events at the same time, but you want to make sure that your event gets the attention it deserves.
Service Packages
Ask potential caterers about the packages they offer. Do they only prepare and deliver the food? Or do they handle everything from set up of tables, bar area, dining ware, and break down at the end of the night? Are staff included? Most caterers offer different service packages that range from food only to fully staffed service, with each package coming at a different price point.
Finalizing Menus
Your caterer will require a date for finalizing your menu so that they can have everything prepared in time. Make sure you have enough time to finalize your decisions by their cut off date. This will require you to have a final head count so you know how much food to order.
Market Price Food
If you plan to serve food that is priced per the market such as seafood, you will want to make sure that a clear cap is placed on these menu items. This cap will limit the amount of market price food your caterer will purchase for your wedding. Without a cap your costs can skyrocket.
Wedding Cakes?
Some caterers create stunning wedding cakes and even include it in their packages. Others don't do any baking. It might be easier to find a caterer who provides wedding cake services. Just make sure to ask if it's included in your food price or if it's an extra charge.
Wedding Catering Contract
The last thing you need to consider is your wedding catering contract. When you are reviewing your contract, first make sure that everything is listed correctly. This includes your name, your venue information, your guest count, your selected menu options, and your caterers licensing information.
Next, you want to make sure that the agreed upon pricing is correct and broken down by cost. The cost should include any potential overtime costs you discuss with your caterer, as well as the cap for any market priced food. It should also include all rental fees if your caterer will be setting up tables and the bar area.
Need The Best Caterer In Northern Virginia?
Need a trusted, reliable, and affordable caterer for your wedding in Northern Virginia? SilverSpoon has you (and your guests) covered. Contact us today to get started towards planning the food and beverage options for your wedding.