Archive
Tags: corporate event
A company Christmas party provides your employees with a unique opportunity to get to know each other and your company. This can significantly boost employee morale.
When planning your holiday party, the food is one of the first things you'll need to consider. Planning menus, shopping for ingredients, preparing food and serving guests takes a lot of time and effort. In fact, it's often the most stressful part of planning a company party.
The right caterer can make your party a success. Hiring a caterer allows you to focus on other important aspects of your event. This makes it possible to throw a Christmas party that your guests are sure to remember.
The right holiday theme can help take your company party from ordinary to extraordinary. Your guests are sure to appreciate the extra effort you put into planning. The following are our favorite company Christmas party themes.
Masquerade Ball
 Throw a truly magical company party with this fun theme. Encourage your guests to come adorned with their own decorative masks. A masquerade ball theme includes traditional Christmas colors with lots of gold and purple thrown in. This type of party calls for appetizers, hors d'oeuvres and finger foods. We have a number of options for you to choose from on our holiday catering menu.
Santa's Workshop 
Get your employees into the Christmas spirit with a holiday party that encourages giving. Have your employees and their guests each bring a toy to be donated to a local toy drive. Decorate your venue with red and white, twinkling lights and festive greenery. Offer your guests comforting entrees such as Parmesan crusted chicken or bourbon maple glazed ham.
White Christmas
 Transform your party into a winter wonderland. Decorate with white ornaments, white linens, white tableware and sprigs of flocked greenery. Offer your guests light colored dishes for the best effect. Good choices include cauliflower steaks and a roast turkey feast.
Please keep Coivd Guidlines in mind while hosting your event:
Keep Surfaces Clean & Sanitized
Although cleanliness is important whenever serving food, it's even more crucial during a pandemic. Event planners could benefit from developing and enforcing procedures aimed at preventing the spread of disease.
Do Not Allow Guests to Serve Themselves
When guests serve themselves, they spread germs from one person to the next via serving utensils. Instead of serving guests buffet-style, consider having your event catered and designate one person to serve each guest. Another popular option, you can provide guests with pre-made boxed lunches. These pre-made meals provide guests with the perfect portion while keeping meals separate.
Encourage Frequent Hand Washing
Make sure that both guests and staff have easy access to handwashing stations.
Make Sure Your Staff Wears a Mask
Although it's not possible to eat while wearing a mask, event planners should make sure staff wear masks at all other times. .
Clean & Disinfect Serving and High Touch Areas
Clean and disinfect all high touch areas before, during, and after the event. Make sure to use quality CDC-approved cleaners and disinfectants.
Keep Staff and Guests Informed
Even with the best precautions in place, you can't make your event truly safe without communicating your plans with your staff and guests. Make sure everyone knows the procedures you've put in place before your event. Signs can let guests and staff know how to properly wear PPE and maintain at least six feet of distance between themselves and other guests. Signage can also direct staff and guests to handwashing stations.
Silver Spoon Caterers offers catering services for weddings, parties, corporate events, and more. Our team works hard to ensure the safety and satisfaction of every guest. Please contact us to learn how we can help make your next event a success!
Silver Spoon Catering offers holiday catering services for company parties. Our holiday catering menu features a number of choices including gluten free and vegetarian options. Please contact us for more information about holiday party catering.
Tags: corporate event
When planning any event, food and refreshments are an important consideration. Lucky for you, northern Virginia is a wealth creative, culinary styles and trends; not to mention that at the heart of our little corner of suburbia sits yours truly: Silver Spoon Caterers. We pride ourselves on out-of-the-box thinking, delicious food, and nothing short of menu planning perfection.
So, without any further ado:
Consider a few delicious ways to spice up your next lunch catering event.
Fusion food is fused with flavor.
Why not combine Mexican food, and Chinese food? Or French, and Indian? Fusion and ethnic dishes add a flair of the exotic to what might otherwise be a rather humdrum catered lunch.
Worried about too much flavor?
Is there such a thing, really? We don't think so. But worry not. Even the herbiest, tangiest cuisines can be prepared with mild spice and a variety of flavors to suit even the shiest of palates. When you choose to include fusion dishes in your next lunch catering order from Silver Spoon, you're sure to make your menu stand out, and leave a lasting impression on all who dine.
Terrific theme = terrific themed lunch event
Lunch doesn't have to be boring. Throw an Alice in Wonderland / Mad Hatter's tea party-themed lunch banquet just to thank your employees for another wonderful, mad year, why don't you?
Talk with the lunch catering experts — That's us, at your service in Fairfax VA — about a food and drink menu that fits with the theme of your event. Every detail, from the décor and table settings, and the appetizer to dessert contributes to the event's success. Fresh, lively presentation and hearty, delicious flavors are the perfect way to keep your guests talking, and your employees happy.
Allow lunch guests to choose their own adventure.
Everyone loves to be in control. Food tables and stations are great, as they allow lunch guests to pick a plate, and go to town: A little of what they like; a lot of what they love; and none of what they don't.
Buffet-style catered lunches are a bit hit among the professional crowd in northern Virginia not just because of the variety of food options, but also because diners and event guests can come for a bite to eat, and get right back to the grind as they please.
Catering a lunch event in northern Virginia?
The clear choice for lunch catering in northern Virginia is Silver Spoon.
Tags: corporate event
Just as awards season kicked into high gear, Main Street Bank (a Northern Virginia neighborhood bank with locations in Fairfax, McLean, Herndon & Arlington) took their employees out for a night at the movies. This annual event gave Main Street Bank[ers] a glimpse at how the other half lives — from the red carpet to the final curtain call, Silver Spoon Caterers was there to ensure no moviegoer went without his favorite snack or sweet treat.
Mise en-scène
Main Street Bank staff worked hard to set the scene for a proper A-list party, with a genuine ticket booth and stage door; pictures printed on shiny film roll; tea-light candles wrapped in film; popcorn boxes turned floral vases; and, of course, a red carpet! Oscar himself even stopped by to join the fun.
Capture the audience.
Guests were treated to an evening of games, dancing, and the papparazzi treatment.
At the concession stand
Kettle corn popcorn
Fresh fruit and cheese with crackers
Signature meatballs
Mini crabcakes with lemon aioli
Seoul chicken
Mini Angus sliders
Spinach ricotta puffs
& CANDY! So much candy.
Roll cameras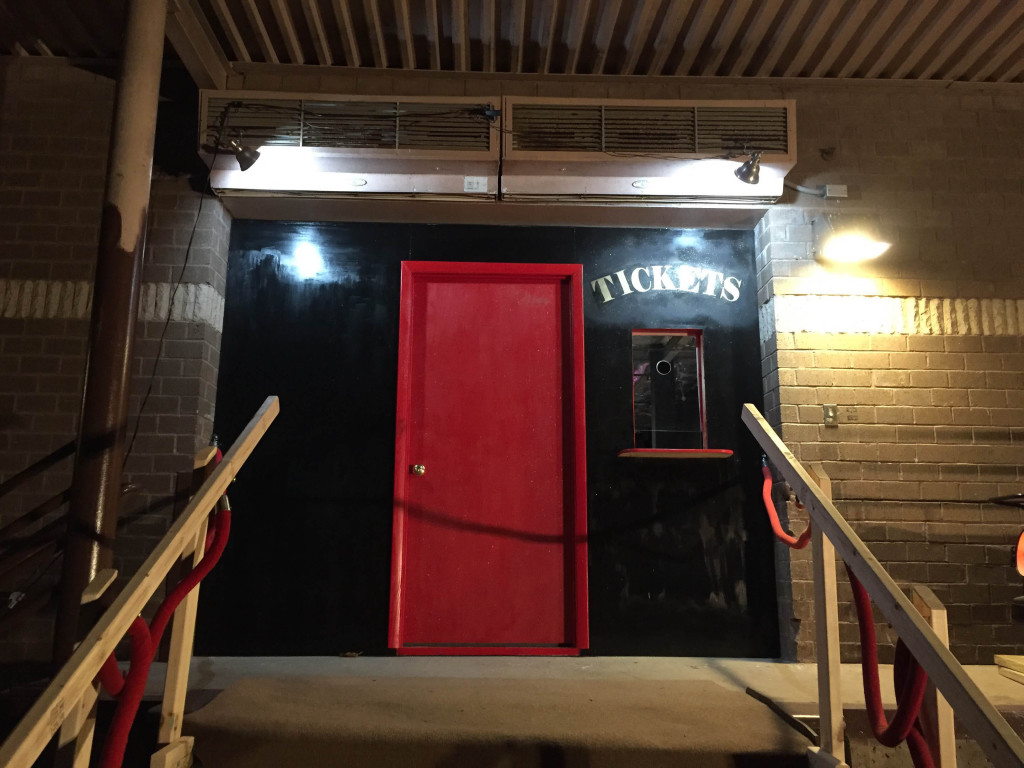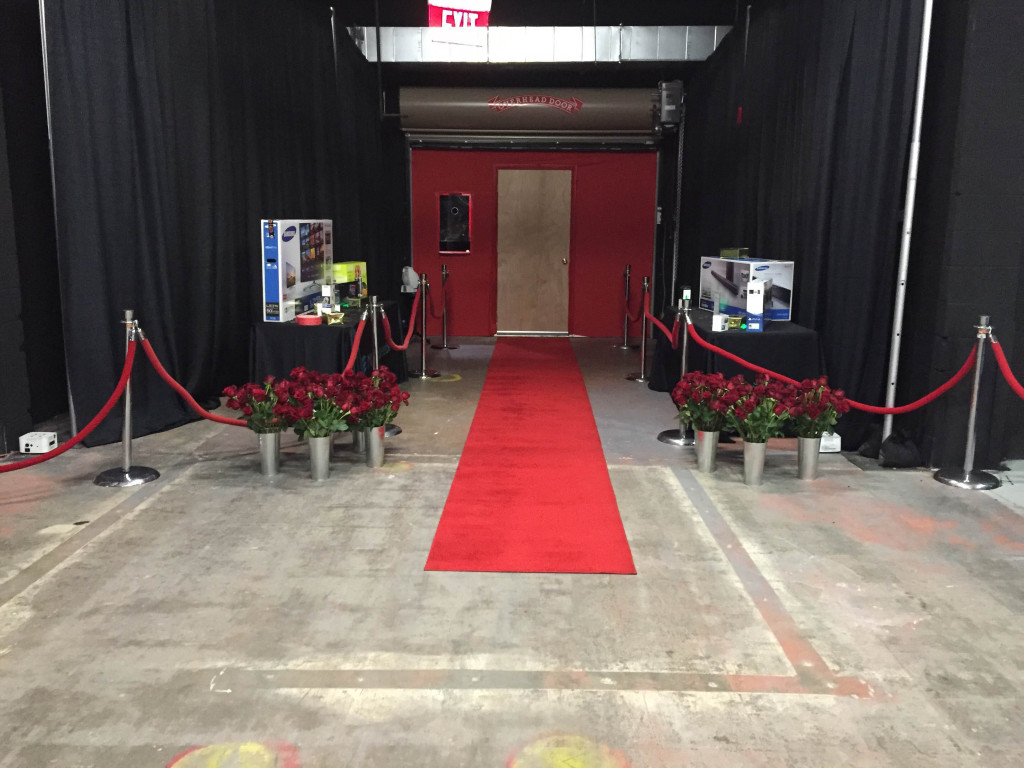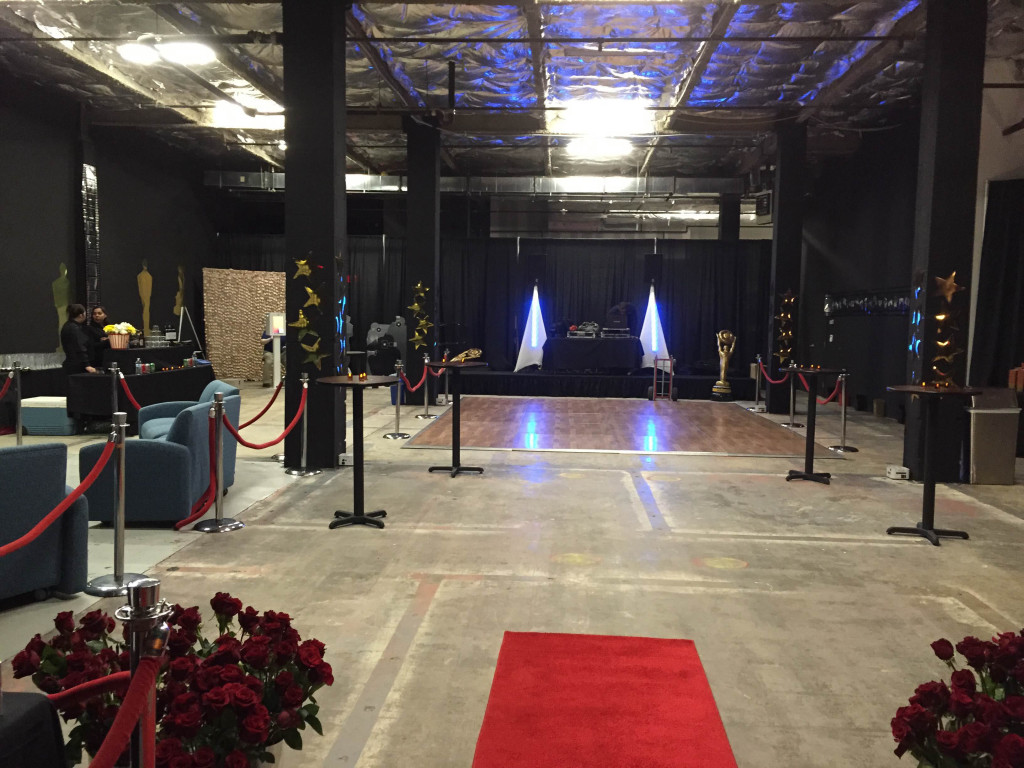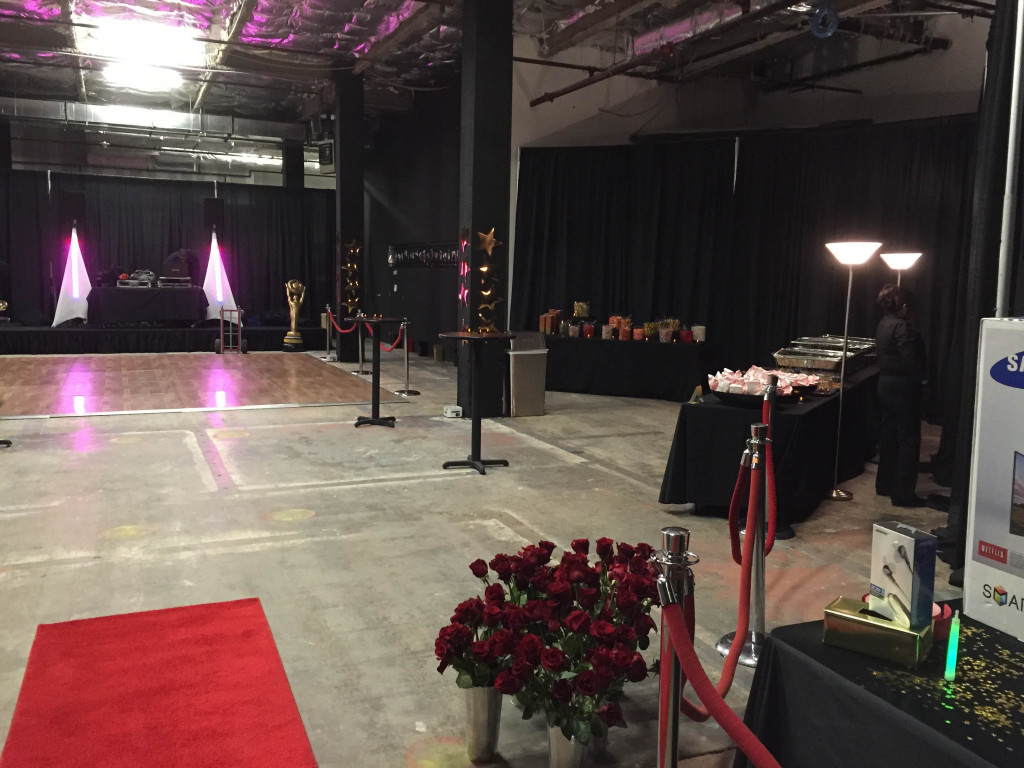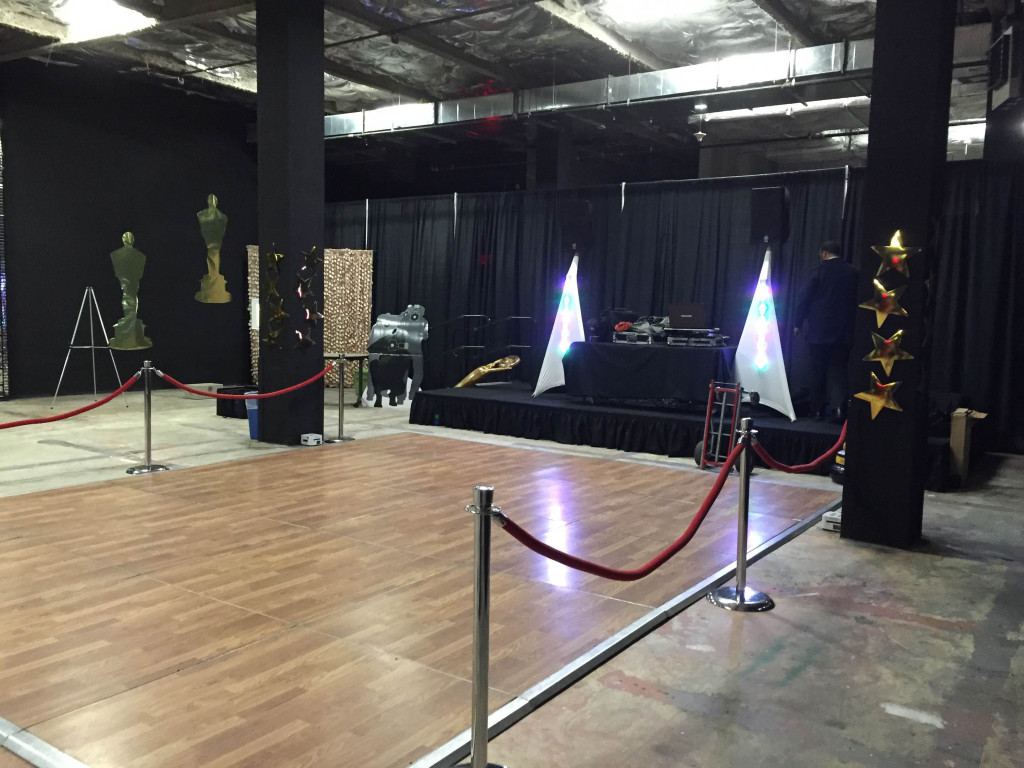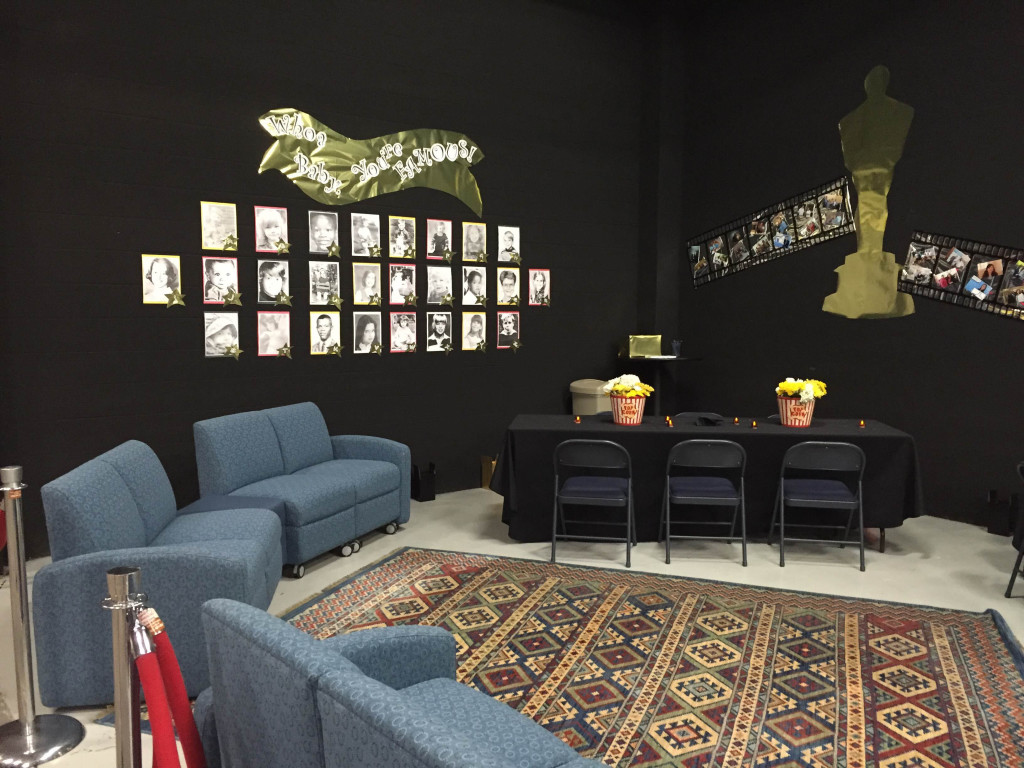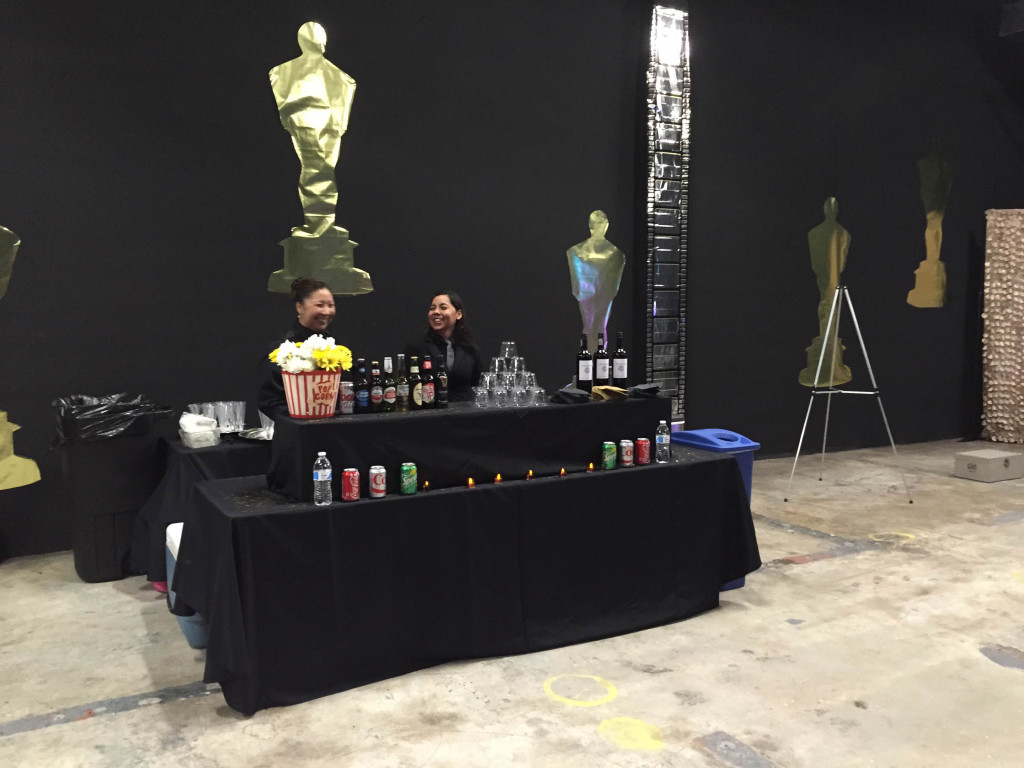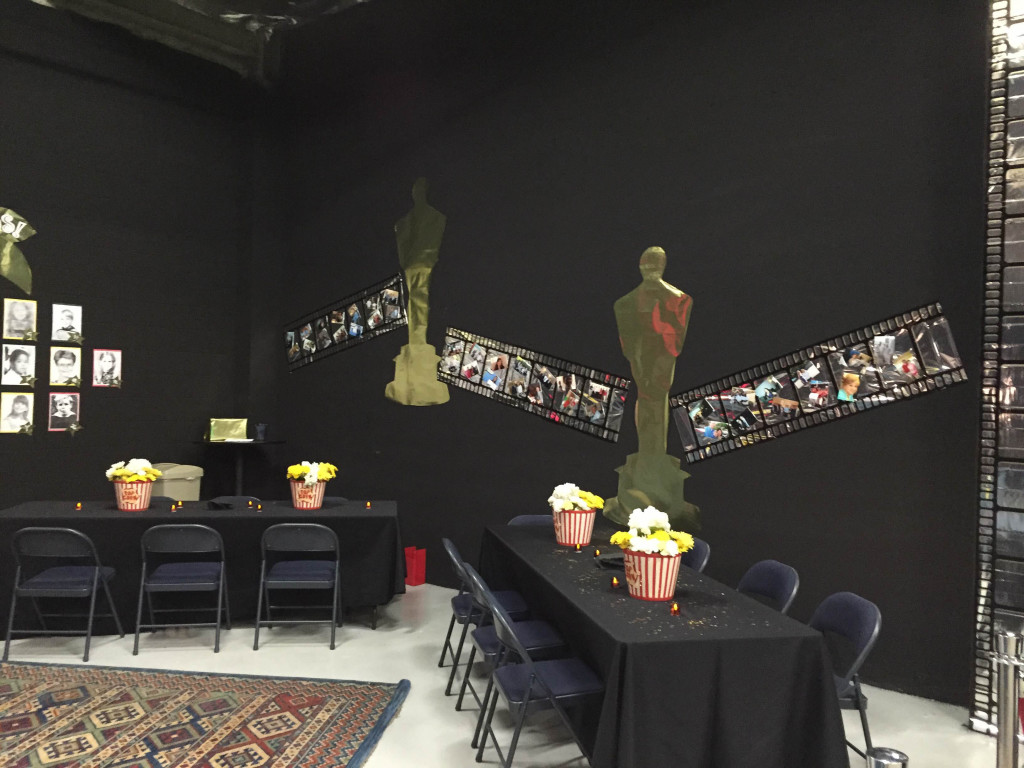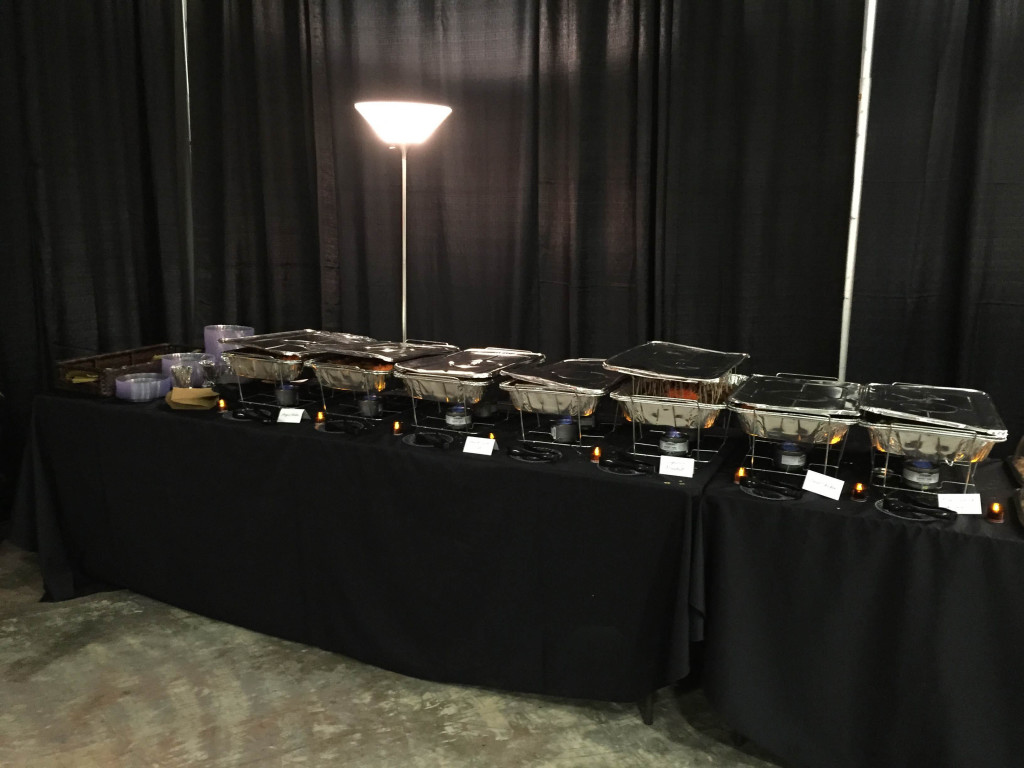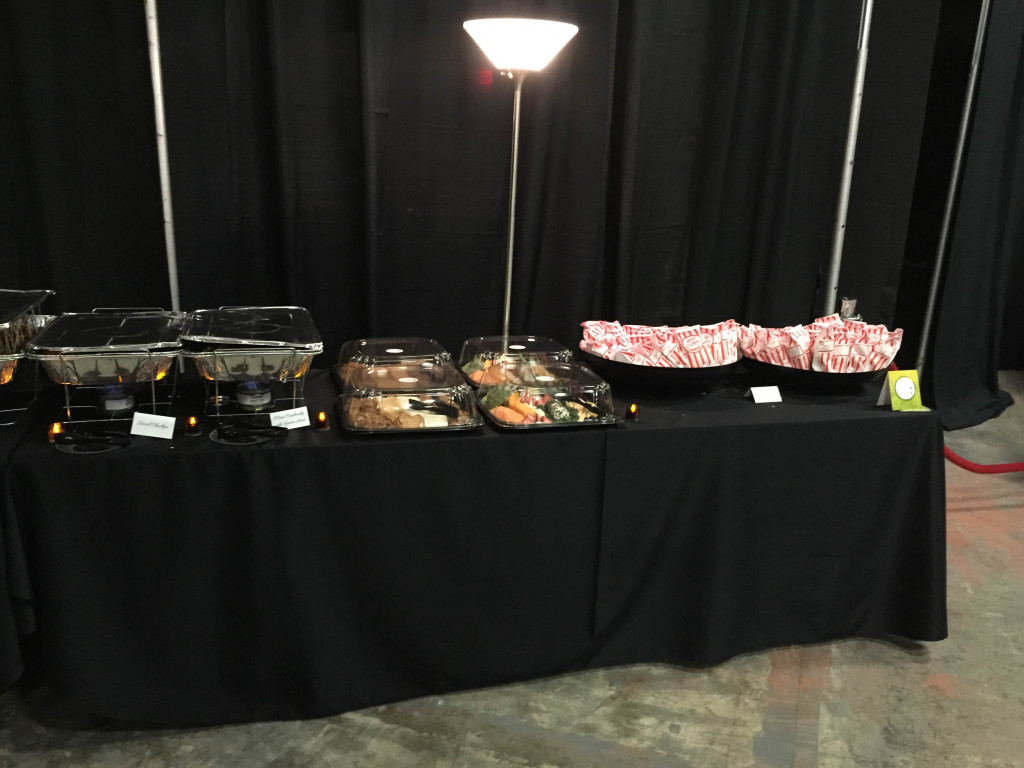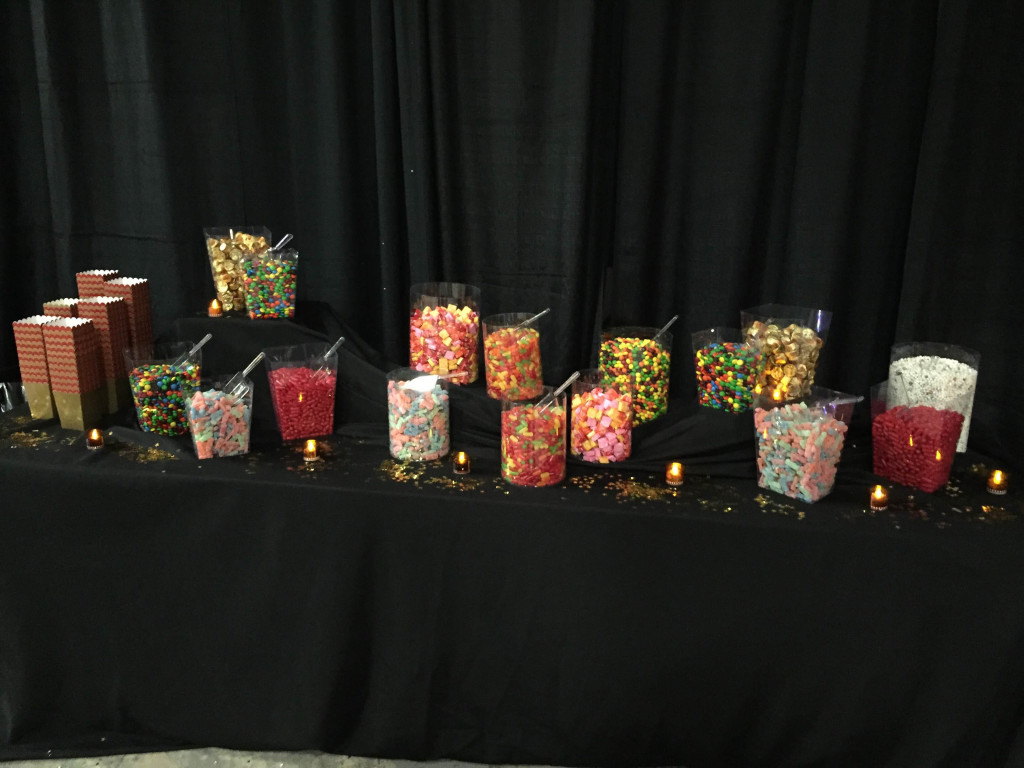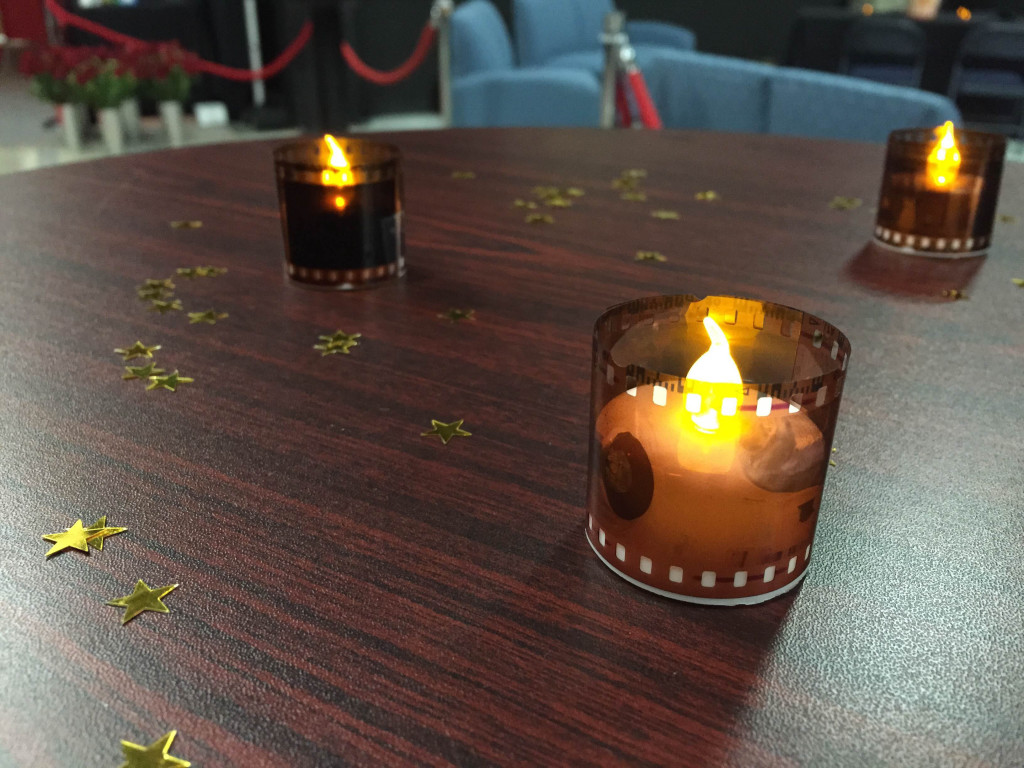 Planning a party? Contact northern Virginia's premier event caterer, Silver Spoon, and let us do the cooking! With delectable, delicious menu offerings that run the gamut from breakfast to dinner, and appetizers to dessert, your tastebuds — and your guests — will thank you.
Tags: corporate event
As we work with couples and corporate event planners to organize special events, we often see the birth of exciting ideas. Here are a few we've seen that are catching on, spreading like wildfire, and are our pick for the top catering trends for 2014.
Food Stations
Sit down dinners are very formal, very sophisticated affairs. But they do have a drawback: They prevent guests from mingling! From weddings to corporate shindigs, we're seeing an emphasis on the ability for people to move around the room as the mood strikes them.
But you generally can't get away with just appetizers. Enter: food stations. By strategically setting up serving stations around the room, people can fill a plate and choose a table. (Seating arrangements go by the wayside quickly.) Best of all, you can offer a wider variety of food with the use of stations, avoiding the biggest problem of catering to dietary restrictions.
Miniaturized Menus
This is another adorable trend we're sure will catch on. These days, everyone is watching their waistline, but that's so hard to do when you're faced with the sort of yummies that Silver Spoon head chef Annette Bledsoe creates.
So portion control is the key. And miniature creations fit the bill perfectly! Mini-cheese-cakes and mini-burgers are just the beginning of your endless options.
Late Night Menu
This is a trend we were surprised to see was so popular! It started catching on towards the end of 2013, but if that early success is any indication, it's going to be a hit this year. Basically, the idea is that after everyone has danced the night away at a reception, they get the munchies again. But what to do? The caterers have all packed up and gone home!
Couples, hating to see their beautiful party break up because people were leaving in search of food, started offering late-night menus. They even offered street-vendor-style food for that authentic late-night feel.
Unique Party Favors
For decades, it's been traditional for guests to take a bit of wedding cake home to put under their pillow. This custom segued into the concept of party favors; for a while there, every wedding offered little bags of mints or tiny bottles of bubble-blowing solution.
Now we're seeing a trend towards unusual or unique party favors like jars of preserves, or hot sauce with the couple's name on it. It's a really neat idea, and we think it will really catch on.
So there you have it: Silver Spoon's thoughts on what the top trends for 2014 will be. Do you think we missed anything?