Archive
Tags: corporate event catering
A company Christmas party provides your employees with a unique opportunity to get to know each other and your company. This can significantly boost employee morale.
When planning your holiday party, the food is one of the first things you'll need to consider. Planning menus, shopping for ingredients, preparing food and serving guests takes a lot of time and effort. In fact, it's often the most stressful part of planning a company party.
The right caterer can make your party a success. Hiring a caterer allows you to focus on other important aspects of your event. This makes it possible to throw a Christmas party that your guests are sure to remember.
The right holiday theme can help take your company party from ordinary to extraordinary. Your guests are sure to appreciate the extra effort you put into planning. The following are our favorite company Christmas party themes.
Masquerade Ball
 Throw a truly magical company party with this fun theme. Encourage your guests to come adorned with their own decorative masks. A masquerade ball theme includes traditional Christmas colors with lots of gold and purple thrown in. This type of party calls for appetizers, hors d'oeuvres and finger foods. We have a number of options for you to choose from on our holiday catering menu.
Santa's Workshop 
Get your employees into the Christmas spirit with a holiday party that encourages giving. Have your employees and their guests each bring a toy to be donated to a local toy drive. Decorate your venue with red and white, twinkling lights and festive greenery. Offer your guests comforting entrees such as Parmesan crusted chicken or bourbon maple glazed ham.
White Christmas
 Transform your party into a winter wonderland. Decorate with white ornaments, white linens, white tableware and sprigs of flocked greenery. Offer your guests light colored dishes for the best effect. Good choices include cauliflower steaks and a roast turkey feast.
Please keep Coivd Guidlines in mind while hosting your event:
Keep Surfaces Clean & Sanitized
Although cleanliness is important whenever serving food, it's even more crucial during a pandemic. Event planners could benefit from developing and enforcing procedures aimed at preventing the spread of disease.
Do Not Allow Guests to Serve Themselves
When guests serve themselves, they spread germs from one person to the next via serving utensils. Instead of serving guests buffet-style, consider having your event catered and designate one person to serve each guest. Another popular option, you can provide guests with pre-made boxed lunches. These pre-made meals provide guests with the perfect portion while keeping meals separate.
Encourage Frequent Hand Washing
Make sure that both guests and staff have easy access to handwashing stations.
Make Sure Your Staff Wears a Mask
Although it's not possible to eat while wearing a mask, event planners should make sure staff wear masks at all other times. .
Clean & Disinfect Serving and High Touch Areas
Clean and disinfect all high touch areas before, during, and after the event. Make sure to use quality CDC-approved cleaners and disinfectants.
Keep Staff and Guests Informed
Even with the best precautions in place, you can't make your event truly safe without communicating your plans with your staff and guests. Make sure everyone knows the procedures you've put in place before your event. Signs can let guests and staff know how to properly wear PPE and maintain at least six feet of distance between themselves and other guests. Signage can also direct staff and guests to handwashing stations.
Silver Spoon Caterers offers catering services for weddings, parties, corporate events, and more. Our team works hard to ensure the safety and satisfaction of every guest. Please contact us to learn how we can help make your next event a success!
Silver Spoon Catering offers holiday catering services for company parties. Our holiday catering menu features a number of choices including gluten free and vegetarian options. Please contact us for more information about holiday party catering.
Tags: corporate event catering
The holiday season has arrived, and it's you who's been tasked with planning the corporate Christmas party this year. You're excited, and you're nervous… Your company is famed for their holiday parties. Each one is better than the last, and you can't exactly break that tradition now. But you're not sure where to start, or how to pull off the corporate holiday party without a hitch.
Luckily, Silver Spoon Caterers is here to help you throw the best corporate holiday party northern Virginia has ever seen.
Think about your venue.
A holiday party in December can't exactly be held outside, now can it? Opt for a nice restaurant with a private event space, or a local hall, or maybe even hit up Jack in accounting; he's got the nicest house you've ever had the pleasure of visiting, and you know how he loves to host. The perfect venue can make or break a party.
Think about the grand entrance.
Projecting your company motto or logo for all to see as they enter the soiree is a great way to make a grand entrance possible. You might also consider posting someone at the door to take coats and hand out drinks.
Think about a theme.
Having a theme for your event is a great way to give your party personality and make it fun and interesting. With a well executed theme, no one will dare call your corporate holiday party boring.
Know your budget
A solid, set budget will help you as the corporate party planner know what can be spent where. You need to know how much you will need to spend on feeding all your guests first. Then, knowing what money is left over, you can plan your event accordingly. This helps keep things organized and all planned out.
Think about how to serve alcohol safely.
What's a holiday party without alcohol? Not one that sounds fun, that's for sure! Consider your crowd, and consider offering only beer and wine to prevent anyone from getting sloppy on company time. Also, have a few northern Virginia cab companies on speed dial for anyone who might need a safe ride home.
With these helpful tips and the aid of your go-to corporate caterer you can plan the best corporate holiday party your guests will be sure to remember.
Silver Spoon' corporate catering service can help you make the perfect menu for your corporate party and help with the service. Don't let the stress of planning your next corporate event menu get you down! Call us, and let's chat about how you can throw a bang up bash.
Tags: corporate event catering
As necessary as it is to get by, and get ahead, networking in northern Virginia can be scary. It's not always easy to walk into a room full of strangers and strike up a conversation. But see, here's the thing: Everyone has come to the same networking event for the same thing, to meet strangers.
And if that doesn't make you feel better, just remember:
Your northern Virginia networking event couldn't possibly go worse than…
The following horror stories were originally collected and published by The Fast Track.
1. Doused in champagne
"I once was asked to attend a dealers forum for our company. This was very early in my career, and I had never attended a conference like this at all. Most of the others attending were all company owners or C-level executives, and I was just a low-level new employee, but the only one in my company who was able to fly out on short notice. I'm very quiet and reserved to start with, plus new to the industry and was surrounded by people who ran companies. I felt completely out of my element the entire time I was there, so I was thrilled when the final lunch was being served and everyone would be leaving for the airport afterwards. I slip in to the luncheon, find an open seat at a table, smile politely, and I'm just counting the minutes to slip out and get home. Part of the final luncheon is a "champagne toast," so the waiters begin bringing around glasses of champagne for everyone. As the final closing remarks are being made, a waiter dumps the entire tray of drinks he is carrying directly on my head and suit. Obviously the entire room reacts to the crashing noise, and literally 10 hotel staff members rush in to "assist" me. Mortified does not even begin to describe my feelings. To top it off, our suitcases had already been collected and sent ahead to the airport, so I got to fly from the West Coast back to the East coast in a suit drenched in champagne. I shudder just thinking back on it."
[2.] Breakfast splash
"I attended a multi-day conference that provided all meals for attendees in an effort to have everyone network during said meals. Breakfast each morning was held in an area accessed by walking down a flight of stairs. I was headed down the stairs, looking into the room to see who was already at breakfast and thinking about who I might eat and chat with. I lost my footing and rolled/bounced all the way down to the breakfast area with my laptop tumbling behind me. Of course, everyone stopped eating and talking and started gasping and staring. Everyone knew who I was after that!"
[3.] Unwanted raffle prize
"I got over my crippling social anxiety and attended a blogging/networking event on behalf of my employer – a children's educational company. I got in touch with a few people, made a few friends, started passing my business card around. I got invited to an event that evening, and threw my card in the fishbowl for the raffle – a bunch of the sponsors had put in gift baskets.
Lo and behold, I won! Oh, did I win. About $300 worth of sex toys. My name was gleefully plastered all over the twittersphere, along with pictures of my bounty. Needless to say, I was not able to capitalize on my newfound fame on behalf of my incredibly mortified and 'how can we erase the internet?' employer."
Network in northern Virginia.
Rest assured that your experience will surely be better than those poor souls'.
Gather a little gumption, and make the most out of your next professional networking event. Have fun, and if you're ever hosting a corporate event in Fairfax, Virginia, you know who to call for catering: Silver Spoon Caterers.
Tags: corporate event catering
Imagine for a moment sitting around a campfire with a dozen or more of your closest friends, singing Kumbaya, making s'mores, playing games… and calling it work.
Sounds like fun, right?
That's what employees at Fairfax-based Edelman Financial did recently.
The Fairfax, Virginia-based financial planning and investment management firm hosts an annual employee appreciation event, and boy, do they go all out! To thank staff for all their hard work all year long, Edelman Financial recently contacted Silver Spoon Caterers (also of Fairfax, Virginia) with an idea to host a camp-stravaganza.
And our response:
Of course Silver Spoon will cater your corporate event in Fairfax.
Together with Edelman Financial, the corporate event caterers at Silver Spoon Caterers worked to develop a camp-themed menu that included pigs in the blanket, fried chicken, vegan kebabs, watermelon & fresh fruit platter, southwestern chopped salad, dirt cup trifles, and a s'mores bar. (They had fun trivia games, raffles, and more for the employees as well.)
Check out the fun the Edelman Financial employees had.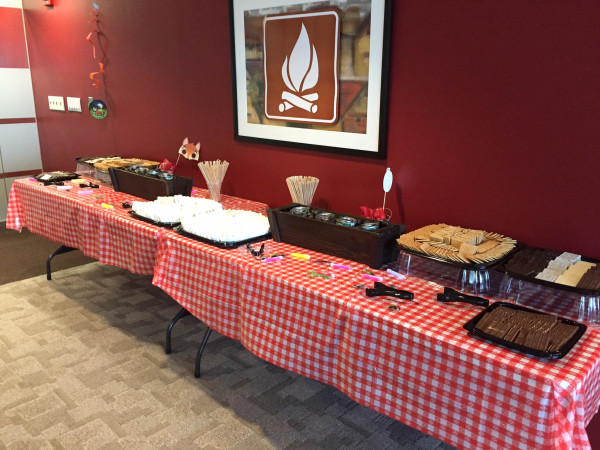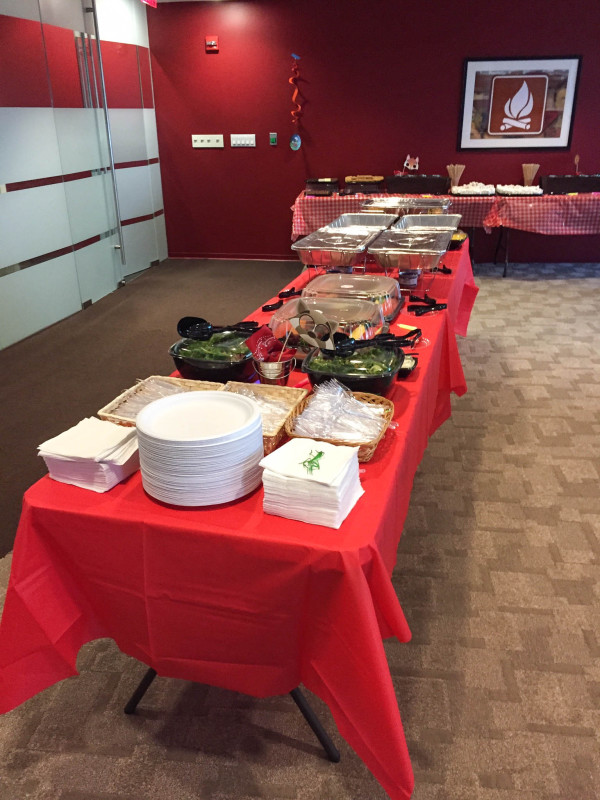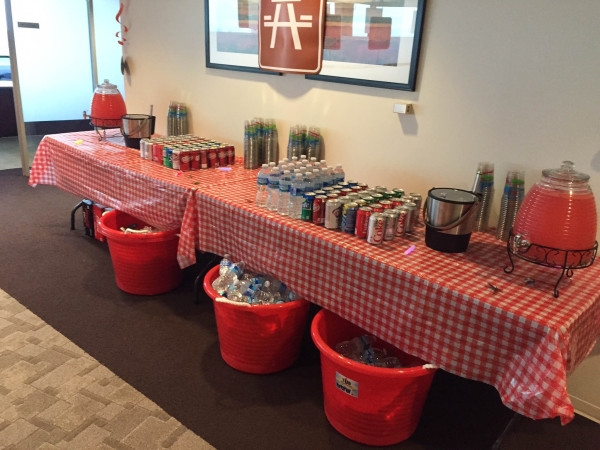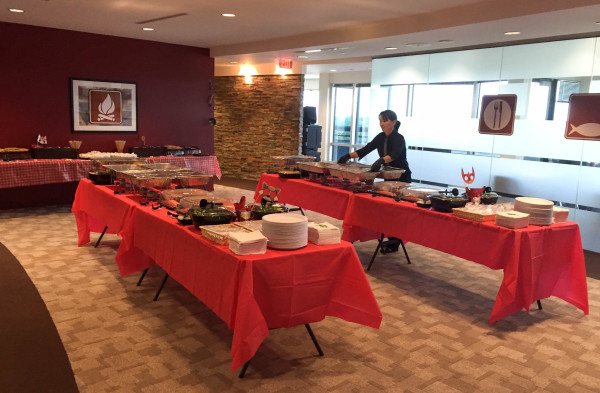 Planning a corporate event in Fairfax, Virginia?
Choosing the right catering company is very important when planning a corporate event. Whether you're having a simple business luncheon or a company-wide event, choosing the right catering company can be tough, and there are a lot of things to consider. Why not leave it to the experts? Silver Spoon Caterers has the experience and the staff to make your next corporate catering event a success.
Tags: corporate event catering
You've got an important business luncheon on the calendar: the first you'll have planned for your company after receiving that long-anticipated promotion; you canNOT screw this up. If there ever was a time to be over-prepared, this is it.
The where, you've got figured out.
All who will speak at the event know where and when to be.
Linens and tables and chairs, check.
The 'from whom will the food come' is settled, of course:
So that's it, right?
Well, I can't speak to the logistics of event planning, but I can tell you this: When you let Silver Spoon Caterers do the cooking for your next corporate luncheon, we'll work with you to plan the perfect menu that's just the right mix of casual and extravagant, and sure to impress your colleagues and clients.
But that's not exactly IT when it comes to a successful corporate luncheon:
There's also manners, and behavior best practices. Keep these important tips in mind when planning your next corporate luncheon in northern Virginia.
Brush up on your guests' business.
What does he do? Why, specifically, did she go out of her way to come to your corporate luncheon in Fairfax? Do you homework, so you can speak with confidence about your guests' business and current industry trends.
Don't assume you'll leave the event as best friends.
Just because you and a business guest hit it off at your corporate luncheon doesn't mean it's appropriate to invite her out for drinks the next day. Keep your business relationships all business, all the time.
Watch what you say about the competition.
Sure, your company is hosting the event for the sole purpose of convincing prospects to bring their business to you. The talk is all about the benefits and value you provide for your clients and customers; it should stay that way. Never speak ill of your competition.
Never ever talk with your mouth full.
Mama raised you better than that. It seems like common sense, but you might be surprised how many otherwise incredibly successful executives never learned that it's a no-no to talk with food in your mouth. To avoid this faux pas at your next corporate luncheon, take small bites, and only speak when you've swallowed.
Be kind to the catering staff.
How you treat the help speaks volumes about your character. The goal of your corporate luncheon is to impress your clients and guests; if you're rude to the catering staff, trust us when we say you'll impress no one.
Planning a corporate luncheon in Fairfax VA?
Call the corporate event catering experts. Call Silver Spoon Caterers.