Archive
Tags: northern Virginia caterer
Casual corporate events provide the perfect opportunity to connect with team members and make important announcements. These events can significantly improve employee morale and workplace productivity.
The right food and catering service can help turn your casual event into a meaningful experience that your team members will talk about for years to come.
Corporate Event Catering
Casual events do not require a full meal. In fact, serving a full meal can make your event feel more formal. Hors d'oeuvres are the ideal choice for casual corporate events. These portable, one-bite snacks allow your guests to sample a variety of food while getting to know each other.
Silver Spoon Caterers provides a wide range of hors d'oeuvres for casual corporate events. We offer vegetarian, gluten free and vegan options to ensure that all your attendees are fully satisfied. The following choices are perfect for casual events.
Coconut Shrimp
Delicious shrimp surrounded in crispy breading with white rum and coconut milk
Mini Crab Cake
A classic favorite, our mini crab cakes are served with lemon-caper aioli
Basil and Red Chili Beef Skewers
These delicious skewers are made from high quality beef prepared with basil, red chili, and ginger
House Burger Sliders
These bite-sized burgers are served on pretzel and brioche buns with sharp cheddar and dijonnaise
Puff Pastry Frank
Similar to pigs in a blanket, our puff pastry franks feature an angus hot dog wrapped in golden pastry and served with a selection of condiments
Memphis BBQ Pork Cup
Our savory Memphis-style BBQ pork served in a cornbread cup and topped with sharp cheddar
Yakitori Chicken Skewers
Japanese-style chicken skewers prepared with Szechuan peppers, soy, scallions, and local honey
Black Bean Sliders
This vegetarian choice features a delicious black bean patty on brioche silver dollar rolls, served with sharp cheddar and dijonnaise
Garden Mushroom Tart
Vegetarian tart made with shitake and cremini mushrooms and manchego cheese
Gazpacho Soup Shooter
Delicious cold soup featuring roasted red bell and jalapeno peppers
Silver Spoon Caterers offers catering for corporate events in Northern Virginia and the DC metropolitan area. We offer a wide range of menu choices as well as vegetarian, vegan, and gluten free options. Our staff is well prepared to handle both large and small corporate events.
Please contact us for more information about corporate catering.
Tags: northern Virginia caterer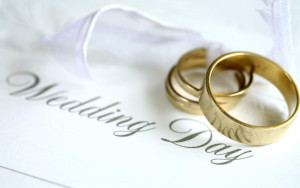 Choosing the right caterer for your wedding is extremely important to the overall success of your big day. You want to find a caterer that will go out of their way to make sure that all of your needs are met. For exceptional Fairfax wedding catering, look no further than Silver Spoon Catering!
When preparing to meet with your wedding caterer, you may be wondering what questions you'll be asked. Certain questions help us understand your wants and needs, so that we can help make all of your wedding dreams come true. It's alright if you don't have all of the answers yet. We will be happy to share our past experiences with you so that you are able to make an informed decision.
One of the first questions that we'll ask you is about where your wedding will take place. For instance, will you have your wedding at a winery or reception hall? Although we will do everything that we can to accommodate you, please keep in mind that not every venue allows outside caterers. We will also need to know the date of your wedding and how many guests you plan to invite.
We will ask about your vendors such as your photographer, videographer, florist, baker, DJ and wedding planner. Knowing who your vendors are before your special day allows us to coordinate with them to ensure that everything runs exactly how you imagine it.
You'll be asked if you have figured out the details of your reception. This might include colors, types of tablecloths, napkins and chairs, centerpieces, china, silverware and glasses. Some venues provide tables and chairs. We will need to figure out if yours is one of these. We can show you examples of what we can provide for your big day. If you are unsure of what to choose, we are happy to make recommendations.
We will discuss whether you wish to serve alcohol and all of the details pertaining to that. While we are licensed to serve alcohol in the state of Virginia, please remember that every venue will have its own rules regarding alcohol.
Each couple is unique and we believe that your menu should reflect that fact. That's why we work directly with you to create a menu that fits your unique tastes and style. Our talented staff will make sure that all of your needs are addressed, including special diets and family favorites.
This is an extremely special time in your life. Let Silver Spoon Caterers help make it perfect! For more information, please contact us at (703) 968-2950.
Tags: northern Virginia caterer
Imagine for a moment sitting around a campfire with a dozen or more of your closest friends, singing Kumbaya, making s'mores, playing games… and calling it work.
Sounds like fun, right?
That's what employees at Fairfax-based Edelman Financial did recently.
The Fairfax, Virginia-based financial planning and investment management firm hosts an annual employee appreciation event, and boy, do they go all out! To thank staff for all their hard work all year long, Edelman Financial recently contacted Silver Spoon Caterers (also of Fairfax, Virginia) with an idea to host a camp-stravaganza.
And our response:
Of course Silver Spoon will cater your corporate event in Fairfax.
Together with Edelman Financial, the corporate event caterers at Silver Spoon Caterers worked to develop a camp-themed menu that included pigs in the blanket, fried chicken, vegan kebabs, watermelon & fresh fruit platter, southwestern chopped salad, dirt cup trifles, and a s'mores bar. (They had fun trivia games, raffles, and more for the employees as well.)
Check out the fun the Edelman Financial employees had.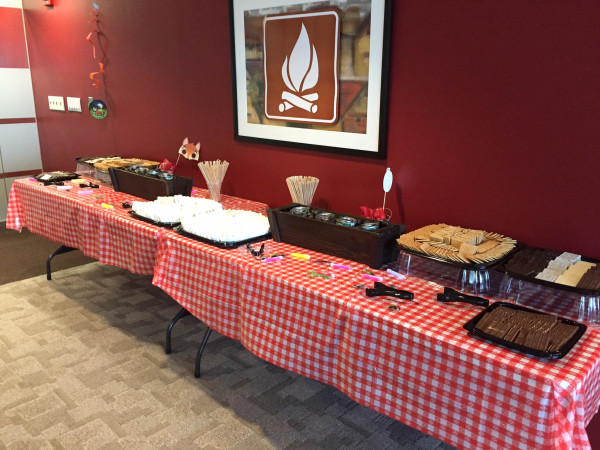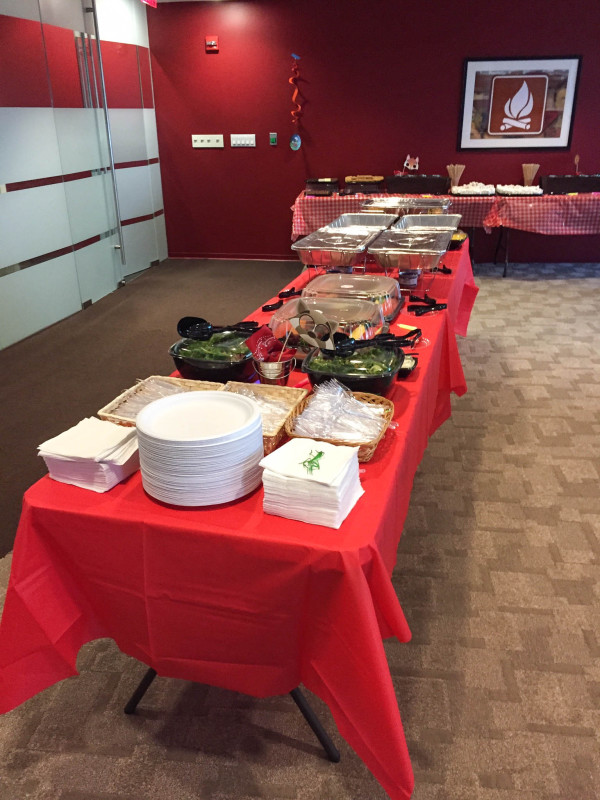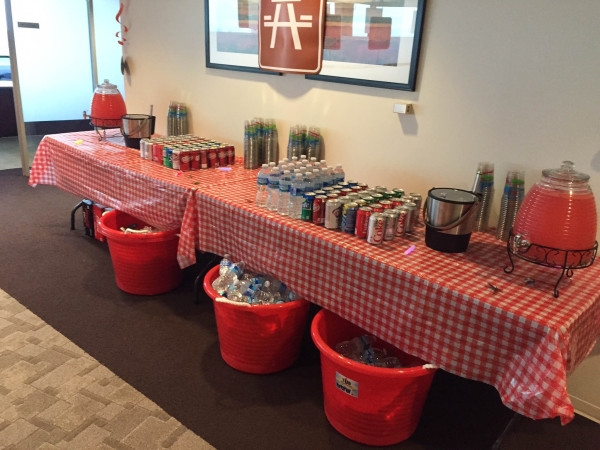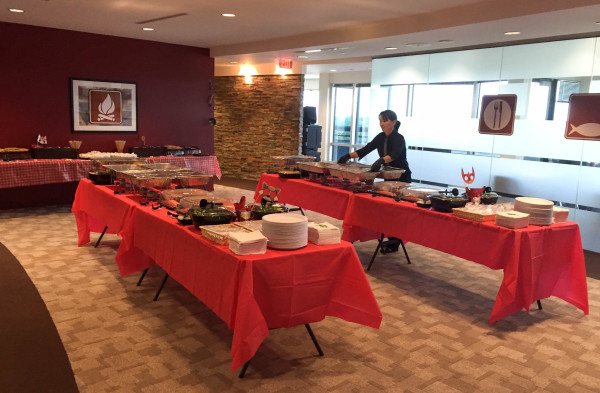 Planning a corporate event in Fairfax, Virginia?
Choosing the right catering company is very important when planning a corporate event. Whether you're having a simple business luncheon or a company-wide event, choosing the right catering company can be tough, and there are a lot of things to consider. Why not leave it to the experts? Silver Spoon Caterers has the experience and the staff to make your next corporate catering event a success.