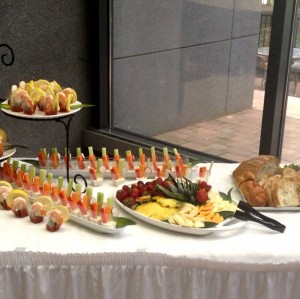 It's wedding planning season.
And when planning an event such as, you know, the biggest, most important day of your life, one of the first things you must consider is how best to feed your guests.
Will you have a sit-down dinner, a buffet, or a mixture of both?
It all depends on the details.
A sit-down event can be:
Elegant. Sit-down events are considered to be more elegant.
Pricey. Sit-down events can cost more than other types of events because they will require servers and pre-prepared plates.
Easier. A sit-down event can make things a little easier and better for people as far as eating. Nobody has to wait in a line to get their food, all they have to do is sit down and eat.
A buffet-style event can be:
Creative. This type of meal allows everyone to be able to fix their own plate and not have a pre-prepared plate just handed to them.
Pleasing to every palate. With a buffet-style meal you can have more options on your menu to accommodate everyone.
Less expensive. This style of dinner can help save some money, because you will not need servers, and you don't have to worry about having someone prepare all of your guests' plates.
With a mix of both:
You can get the best parts of both styles. You could decide to have your first meal served to everyone at their table. Then you could choose to do buffet for the next course. If you decide to do this it can help give you the creative side of the buffet, as well as the elegance of the sit-down meal. This also helps with having a crowded buffet, because people eat at different speeds. Since people don't eat at the same speed, not everyone would be at the buffet at the same time. Your dinner would move at a more steady pace and nobody would feel rushed or bored for having to stand in a long line and wait.
No matter which way you decide, just make sure to keep in mind what you want to get out of your event. If you are still not too sure what style meal you want:
Let Silver Spoon Caterers help make your decision a little easier.
Call and talk to one of our event planners at Silver Spoon Caterers today. Our caterers will be able to help you plan the perfect meal for any event you have planned. We can help you decide on a menu, style, and service type that will help make your event memorable.