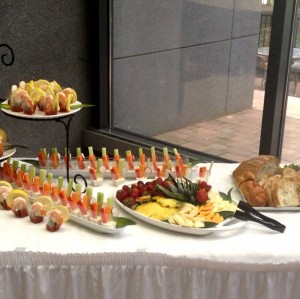 As we work with couples and corporate event planners to organize special events, we often see the birth of exciting ideas. Here are a few we've seen that are catching on, spreading like wildfire, and are our pick for the top catering trends for 2014.
Food Stations
Sit down dinners are very formal, very sophisticated affairs. But they do have a drawback: They prevent guests from mingling! From weddings to corporate shindigs, we're seeing an emphasis on the ability for people to move around the room as the mood strikes them.
But you generally can't get away with just appetizers. Enter: food stations. By strategically setting up serving stations around the room, people can fill a plate and choose a table. (Seating arrangements go by the wayside quickly.) Best of all, you can offer a wider variety of food with the use of stations, avoiding the biggest problem of catering to dietary restrictions.
Miniaturized Menus
This is another adorable trend we're sure will catch on. These days, everyone is watching their waistline, but that's so hard to do when you're faced with the sort of yummies that Silver Spoon head chef Annette Bledsoe creates.
So portion control is the key. And miniature creations fit the bill perfectly! Mini-cheese-cakes and mini-burgers are just the beginning of your endless options.
Late Night Menu
This is a trend we were surprised to see was so popular! It started catching on towards the end of 2013, but if that early success is any indication, it's going to be a hit this year. Basically, the idea is that after everyone has danced the night away at a reception, they get the munchies again. But what to do? The caterers have all packed up and gone home!
Couples, hating to see their beautiful party break up because people were leaving in search of food, started offering late-night menus. They even offered street-vendor-style food for that authentic late-night feel.
Unique Party Favors
For decades, it's been traditional for guests to take a bit of wedding cake home to put under their pillow. This custom segued into the concept of party favors; for a while there, every wedding offered little bags of mints or tiny bottles of bubble-blowing solution.
Now we're seeing a trend towards unusual or unique party favors like jars of preserves, or hot sauce with the couple's name on it. It's a really neat idea, and we think it will really catch on.
So there you have it: Silver Spoon's thoughts on what the top trends for 2014 will be. Do you think we missed anything?