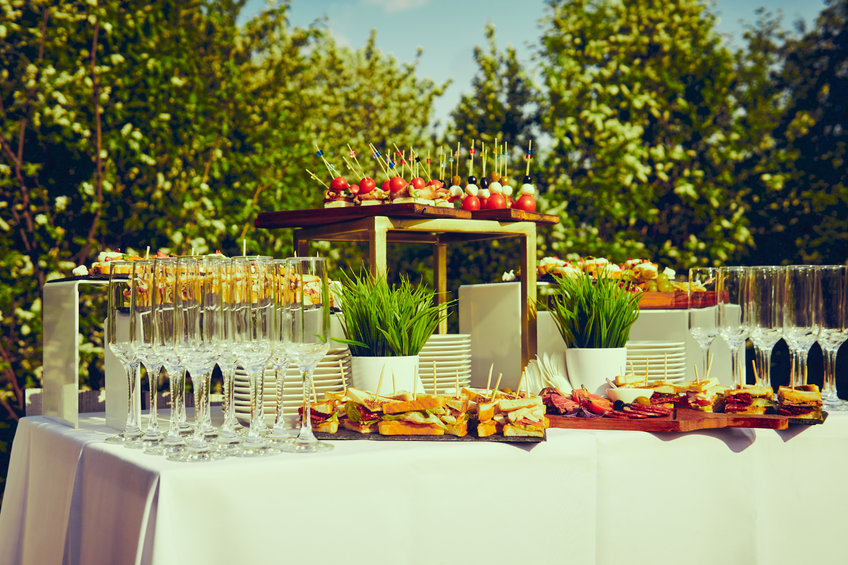 Some of the best companies in America have become successful because they have great products, services, and an outstanding corporate culture. Their employees work well together as a team and form a special in-person bond. However, with the Covid-19 pandemic the ability to create and sustain a corporate culture through online meeting and conference calls has been challenging.
Although people are starting to go back into their offices, many companies are requiring mask wearing and social distancing; not the best way to bring back that bonding corporate culture. However, a great way to get the team together again in a safe way is by having an outdoor corporate event. Whether it's a meeting, seminar or just a good old fashion cookout for the team.
That being said, outdoor events add a level of uncertainty and risk to the event. You'll have to account for the type of weather you may experience. You may have to research and accommodate facilities which may not have power. You may have to rent outdoor toilets. There are a lot of things to think about.
Here is a quick three-step checklist to be sure that you're not missing anything.
Venue
Research your venue to make sure your guests will be comfortable. This might mean visiting the venue ahead of time to scout for potential issues.
Does the area have ample seating? Electrical power? Is it accessible to people with limited mobility? Is it near a parking lot, convenient for setup and teardown? How close are the bathrooms? Is there plenty of shade, or will you have to rent a tent so that people have a place to get out of the sun, or to continue the party if it rains?
Consider a "housekeeping kit" with Lysol and paper towels, broom and dustpan, lots of garbage bags and a spare extension cord or two in case of the unexpected.
Menu
Unless your venue has tables as well as places to sit, you'll most likely rule out foods that require a fork and a knife. Finger foods and appetizers are easier for people to eat standing up, and you might aim for foods that only require a napkin, not a plate.
You will also want to consider what foods can be easily kept at the proper temperature for long periods of time. Lighter, cooler fare will be better received than heavy, hot dishes, and they're easier to manage anyway.
If renting toilets for the occasion, consider having a separate wash station with clean water, Purell, and soap.
Entertainment
While many groups can comfortably chat a whole afternoon away, the event will be more memorable if you can organize some entertainment. Whether it's a few games or a DJ, give some thought to this in the early stages.
If you are allowing children, you might consider hiring childcare to run games and challenges just for the kids while their parents socialize with freedom.
Corporate events provide the perfect opportunity for coworkers to get to know each other outside of the office. These events allow employees to feel like part of a team. This can have a significant impact on morale, work relationships and company loyalty.
Company picnics are an excellent way to make your corporate event fun and memorable for your guests. The following tips can help you throw an unforgettable corporate cookout.
Fantastic Food
Every great corporate event has one thing in common: excellent food. Cookouts always have plenty of options for guests to choose from. Popular dishes include:
Memphis Style Pulled Pork
Barbeque Chicken Sandwiches
Burgers
Hot Dogs
Veggie Burgers
Shrimp "on the barbi"
Grilled Vegetables
Salads (leaf, pasta and fruit)
Socially Distanced Corporate Events
Make sure that you have a variety of games and activities set up for everyone to enjoy. Some ideas include:
Ladder Golf
Corn Hole
Croquet
Badminton
Kickball
Potato Sack Races
Your company cookout just isn't complete without the proper décor. Southern décor is robust and rustic and pays homage to the diverse natural landscapes of the region. Create the perfect look and feel by sticking with this gorgeous tradition. Decorate for your event with checkered tablecloths, Mason jar centerpieces and sunflowers.
Northern Virginia Catering Company
Silver Spoon Caterers provides exceptional food and service to corporate events of all shapes and sizes in Northern Virginia. We offer a variety of menu items to choose from and we are well equipped to handle special dietary requirements. Our experienced team takes care of all the details so that you are able to focus on the important team-building aspects of your event. We coordinate every step, from menu creation to serving. Please contact us for more information about our corporate catering services.