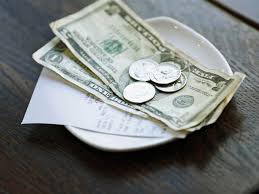 There's one expense many couples forget to include when making a wedding budget. That's vendor tips. Tipping is both expected and appreciated. Here are some things to consider when planning your event.
Whom Do I Need to Tip?
The number of vendors you should tip depends on how many vendors you have. Your list might include officiants, catering staff, stylists, musicians or deejays, photographers, videographers, florists, wedding coordinators, site staff, drivers, and delivery people.
How Much Should I Tip?
Officiants may charge you to perform the service, but many won't accept tips. Some aren't even allowed to. If you're unsure, find out ahead of time. For a religious officiant, consider making a donation to his or her organization. If your officiant is a civil employee, a heartfelt card is a good way to say thank you.
For the catering staff and your stylists, it's fine to tip the standard 15-20% you would leave at a restaurant or regular appointment. Give the whole tip to the banquet manager and let him or her divide it up amongst the staff. Another option is to tip each member of the catering staff individually. In this case, amounts usually range from $100-200 for the manager down to $20-30 for each waiter. If you take that approach, put each person's tip in a separate envelope and let the catering director or banquet manager distribute them.
Don't feel obligated to tip bands or deejays you hired independently. The same goes for any vendors who run their own businesses. If your photographer works for himself, for instance, he's making the whole fee he charged, so a tip isn't necessary. If, on the other hand, your photographer is part of a larger agency, it's nice to give something in the $30-50 range. Similarly, if you found your band or deejay through an entertainment agency, plan to tip at least $20 per person.
It's easy to overlook the site staff. That includes coat checkers, restroom attendants, and valet parking staff. Recognize their contribution to your big day by giving $0.50-$2 per guest to each group of support staff. They can split the total up amongst themselves.
If the bill from the limousine company doesn't include gratuity, give your driver an extra 15-20%. Delivery people should get $5 or so for each delivery they make. Wedding coordinators typically receive from $50-100.
When Should I Hand Out Tips?
In most cases, distribute tips on the big day. Avoid adding one more thing to your own plate, though. Instead, ask a friend or family member to give out tips. Prepare the amounts ahead of time. Give them to your representative along with instructions about how much to give to each vendor. You can also put together a labeled envelope for each vendor. Doing so will help the person handing out tips keep everything straight. Include a note of thanks for each vendor if you'd like.
With a little pre-event planning, this stressful aspect of your big day should go smoothly. Your vendors will thank you for your forethought, too!