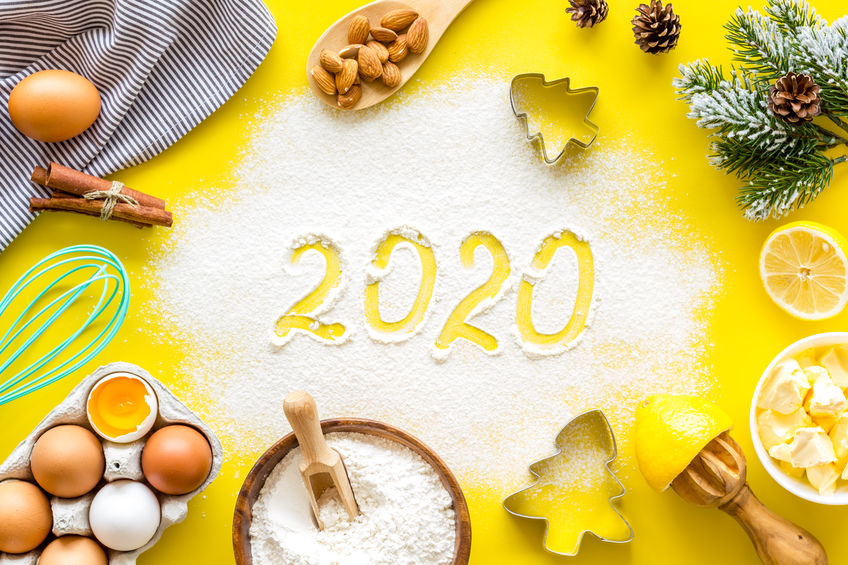 What a crazy and incredibly challenging year this has been. With COVID changing and impacting all of our lives, many small businesses like ours needed to adapt. We've spent a lot of our time enriching our boxed meals service and finding creative ways to provide safe and healthy catering options to essential workers and people hosting private events. We're thinking "outside of the box" to provide our "boxed meal service". 😊
We've written about a lot this year; from our safe catering protocols, ideas to help essential workers, to eating healthy and feeding those on dietary restrictions.
To recap, here is a quick summary of our most popular blogs from one of the most challenging years in modern history….The year 2020.
HEALTHY CATERING OPTIONS FOR THE NEW YEAR
By the end of January, let's be honest, nearly everyone has already fallen off the New Year's resolution wagon. But not you. Not this year. You're committed to make healthier food choices, and that means catering healthy meals too. As your premier corporate event caterer, we hear it all the time: "It's so hard to eat healthy when I'm constantly attending banquets, trainings and conferences". (Fast forward to March 2020 and this has changed to: "constantly joining one Zoom call after another and helping the kids with online learning".) And the truth is, while it may sometimes be more difficult to do so, it's not impossible.
Opt for whole-grain (over white) bread, rice, or pasta — that's a big one. Use low-fat, low-salt, and reduced-sugar alternatives. And three: Serve fresh fruit and vegetables. It's really that easy. Not convinced? Let's get specific.
Read the entire article at: https://www.silverspooncaterers.com/healthy-catering-options-fairfax-corporate-event/
ORDER BOXED LUNCHES FOR ESSENTIAL EMPLOYEES
Boxed lunches are the perfect grab-n-go way to safely serve our #essentialworkers while limiting contact. Consider sending Silver Spoon boxed lunches to your local first responders, sanitation, food service, or other essential workers to show them you appreciate them!
Choosing the right Catering Company to deliver your employee's food is very important. There are a lot of things to consider. Not only will SilverSpoon accommodate allergies, but we'll also ensure the food is prepared and delivered in a safe and sanitary manner.
Visit our box lunch page to see a list of everything we offer and place an order.
Read the entire article at: https://www.silverspooncaterers.com/order-boxed-lunches-for-essential-employees/
LEARNING TO WORK WITH COVID19: WHY CATERING IS A BETTER OPTION THAN RESTAURANT FOOD DELIVERY FOR CORPORATE EVENTS
As we move through Phase 1 and Phase 2 of "reopening", businesses must ensure their employees have a safe work environment and remain healthy, this includes when your company needs catering services.
Silver Spoon Caterers is taking all necessary precautions to ensure the safe preparation of their corporate catering services including offering single boxed meals. We are following all CDC and FDA recommendations regarding cleaning procedures and the safe handling of food. Silver Spoon Caterers ensures all meals are prepared and delivered in a safe and sanitary manner.
Read the entire article at: https://www.silverspooncaterers.com/learning-to-work-with-covid19-why-catering-is-a-better-option-than-restaurant-food-delivery-for-corporate-events/
GLUTEN FREE CATERING 101
Accommodating guests with dietary restrictions can be tricky, but especially when you're planning to host someone with celiac disease: It's important to understand that his or her gluten-free diet is more than a lifestyle choice, but a medical necessity. The adequate, safe preparation of a gluten-free meal depends upon more than a few modification to the regular menu; think cross contamination.
Even the slightest bit of gluten from a bowl, a spoon, or cooking oil can cause a person with celiac disease to react. It's not enough to simply remove the croutons from the salad, but you must make a separate salad entirely, separate entrees and desserts, too. That's why Silver Spoon Caterers recommends leaving the cooking to the professionals. That is to say, us.
Read the entire article at: https://www.silverspooncaterers.com/gluten-free-catering-tysons-corner/
HOSTING MEETINGS AND EVENTS SAFELY DURING A PANDEMIC
Throughout lockdown, birthdays, weddings, team meetings, and other events had to be put on hold. As states around the country relax stay at home orders and restrictions, Americans everywhere are excited to reconnect and celebrate with friends, family, and co-workers.
While many states now allow meetings and events, certain restrictions still apply. It's important that event planners learn all they can about state rules and CDC guidelines to ensure everyone stays safe. This is especially true if you plan to serve food.
Read the entire article at: https://www.silverspooncaterers.com/hosting-meetings-and-events-safely-during-a-pandemic/