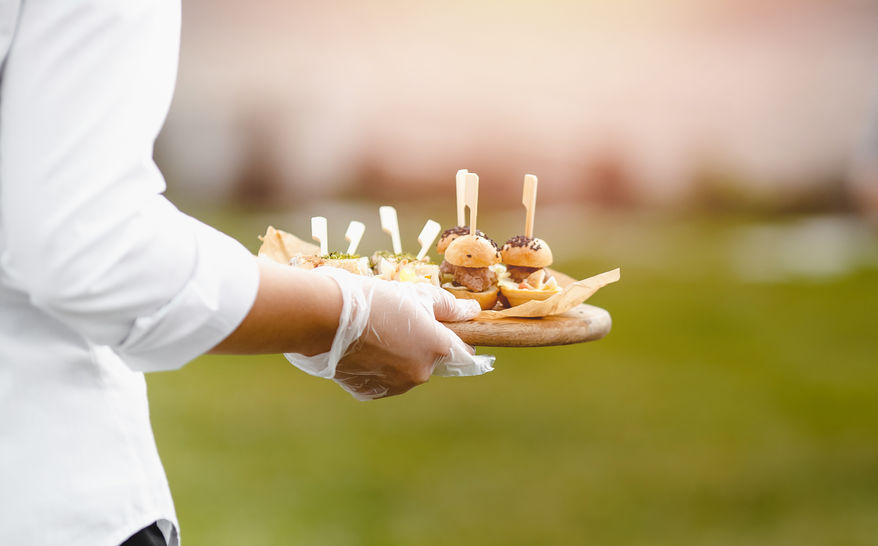 As we move through Phase 1 and Phase 2 of "reopening", businesses must ensure their employees have a safe work environment and remain healthy, this includes when your company needs catering services.
Silver Spoon Caterers is taking all necessary precautions to ensure the safe preparation of their corporate catering services including offering single boxed meals. We are following all CDC and FDA recommendations regarding cleaning procedures and the safe handling of food. Silver Spoon Caterers ensures all meals are prepared and delivered in a safe and sanitary manner.
As we try to get back to semi-normal business operations, you have many things to consider when planning a corporate event. In addition to guest speakers and schedules, it's important to think about the food you serve as well. Although attendees aren't likely to expect a full four course meal, they will expect you to provide them with something to eat. It is up to you whether the food you serve will come from a restaurant or a corporate catering company.
While both restaurants and corporate caterers can provide a wide range of high quality food options, ordering from a catering company helps ensure your event runs as smoothly as possible. Restaurants simply deliver food in bags and boxes, leaving set-up, serving, and clean-up to those running the event. A corporate catering company takes care of everything for you, ensuring safe food preparation and all attendees leave fully satisfied.
Corporate Event Caterers
Corporate caterers understand the importance of keeping corporate events on schedule. They work directly with event planners to determine the perfect timing and menu. On the day of the event, they send enough people to prepare the space, serve the food, and clean up after the meal. This ensures meals don't run into important meetings. It also takes the stress of food off event planners, allowing them to focus on other important aspects of the event.
Allergies & Dietary Requirements
Allergies and special dietary requirements are one of the biggest challenges when planning the food for a corporate event. It's important to make sure you have enough choices for all attendees, even those with allergies or special diets. Experienced corporate caterers will help you plan your menu accordingly, making sure you have a variety of options including allergy-friendly, gluten free and vegetarian choices. This can go a long way towards the success of your event.
Determining How Much Food Your Corporate Event Requires
Restaurants typically provide food in large containers. Event planners must remove the food and place it in warmers or serving platters. In addition to set-up, it is up to the event planner to determine how much food they think attendees will eat. During the event, attendees serve themselves while the event planner "hopes" they guessed correctly.
Corporate caterers cater numerous events each year. They know how much food attendees will need. In order to ensure proper proportions, corporate caterers can serve the food to attendees. They can also provide pre-packaged lunch boxes. This helps ensure everyone at the event gets enough food.
Northern Virginia Corporate Catering Services
Silver Spoon Caterers offers corporate catering for a wide range of corporate events. Our team has years of experience and knows how to ensure all guests meals are prepared and served following strict sanitary guidelines. We offer several different menu options which include plenty of vegetarian, peanut-free, and gluten free choices. In addition to boxed lunches and sandwich platters, we also offer breakfast buffets, board dinners, hot entrees, salads, happy hour catering, and more. No matter what your company requires, Silver Spoon Caterers has it covered!
Please contact us or call (703) 935-4531 for more information about our corporate catering services.