Archive
Tags: Silver Spoon catering
Planning an event, whether it's a wedding, corporate event, or just a celebration, involves juggling numerous tasks and details. From selecting a venue to organizing decorations and entertainment, the list can seem overwhelming. However, there is one aspect that can significantly ease the stress of event planning: catering! Hiring professional catering companies to accompany your event is a great way to provide tasty food with little effort. In this blog post, we will explore ways in which catering can help plan your event and how to plan a catering event, leaving you with peace of mind and more time to focus on other aspects of your event! 
Your Event Goals
Before diving into event planning, it is important to define your event goals. This includes figuring out how many people are attending, where the venue is, and what type of food best accommodates your group. This will make decisions easier when selecting your catering service. Set a clear budget that includes food, beverages, and service charges. Having a well-defined budget and goal will allow you to align your catering choices and ensure a successful event without overspending!
Research Catering Services
Researching a catering service that aligns with your event requirements and expectations is very important. Consider the caterer's experience, the variety of their menu, client testimonials, and their location. Reach out to the company and ask if they have specialized catering for allergies or restrictions. Finally, choose a catering service that not only meets your budget but also understands your vision and can deliver a great catering experience for you and your guests. 
Collaborate on Menu Planning
Effective collaboration and communication with your caterer is another important aspect in menu planning. Clearly communicate your event goals, dietary restrictions, and a desired theme for the food that integrates to the overall event. Consider offering a variety of options, including vegetarian, vegan, and gluten-free choices. Seek input from the caterers on seasonal ingredients and presentation ideas that can enhance the experience of your event. 
Pay Attention to Presentation and Food Display
The visual appeal of food plays a vital role in creating a memorable dining experience. Work closely with your caterer to discuss the presentation and food display options. Consider incorporating decorative elements that match your event's theme. This will create an aesthetically pleasing ambiance for your event. Collaborate on the selection of serving platters, linens, and table settings that complement the overall decor. Pay attention and plan the arrangement of food stations and buffet tables, this will ensure easy access and smooth traffic flow. The presentation of food is a great way to show off the quality and effort you put into every detail of your event.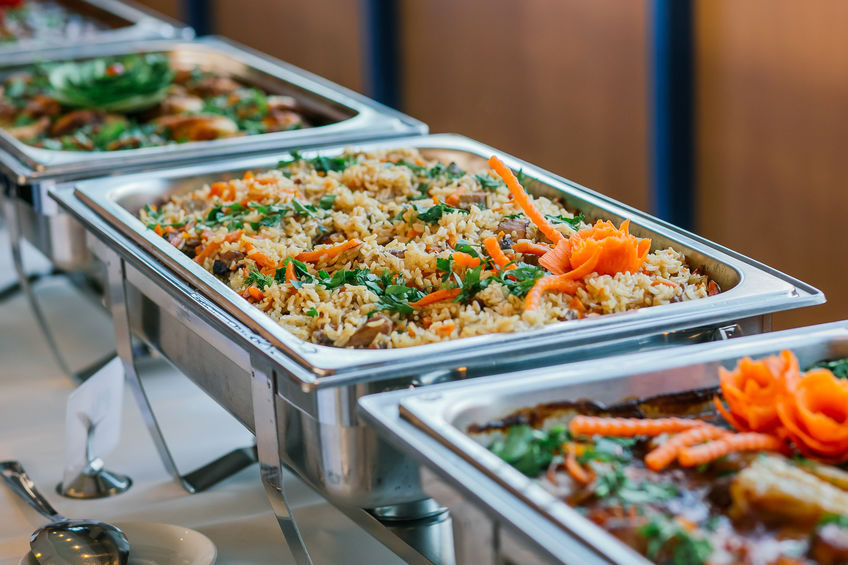 Ensure Effective Communication and Coordination
Effective communication and coordination between all parties involved in the event are key to its success. Maintain open lines of communication with your catering service, event planner, venue management, and other vendors to ensure a cohesive and seamless event. Clearly communicate your event timeline, setup requirements, and any specific instructions to the catering team. Provide them with necessary information, such as the number of guests, expected dietary preferences, and any special arrangements required. Regularly review and confirm details to ensure everyone is on the same page. By practicing strong communication and coordination, you can address any potential issues proactively and guarantee a smooth event flow. 
Consider Guest Experience and Testimonials
Guest experience is a very important detail to pay attention to when planning a successful event. Pay attention to details such as seating arrangements, traffic flow, and accessibility. Work closely with your caterer to ensure the food is served efficiently and smoothly. Encourage guests to provide feedback on the quality of food and service. This is also important to recognize when you are picking a catering company. Look at testimonials and guest reviews, this is good intel when choosing which company would best accompany your event.
Planning a successful event involves careful consideration of various factors. Using a catering service will surely play a major role in creating a memorable experience for your guests. By following these tips, defining your event goals and budget, selecting the right caterer, collaboration on menu planning, ensuring effective communication, and prioritizing guest experience, you can host an event that exceeds expectations. Remember, a well-executed catering service will leave a lasting impression on your guests and contribute to the overall success of your event!