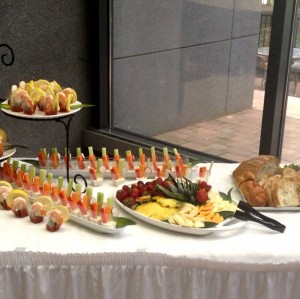 No host wants to be in the position of running out of food at an event. But you also don't want to order too much and have it go to waste. And it's also likely that you don't cater to hundreds of events every year and know the rules of thumb for how much the average person will eat at a given event. Luckily for you, Silver Spoon Caterers is here to guide you.
Here are some handy tips to use while planning for your next event.
The amount of food you need to order depends on how long the event is and what time of day it's at, as well as the number of people attending. An evening cocktail party requires less food than an afternoon wedding reception with a dinner. The longer the event lasts, the more food and drink people consume.
The number of appetizers depends on whether you're serving another meal. Plan on 3-5 pieces per person if served pre-dinner, but make them lighter fare. If it's an afternoon event, 1-3 pieces may suffice. For an evening function, with no dinner, you'll need to plan for 10-15 pieces per person.
Round up, never down. People eat more when it's served buffet-style than when it's passed on trays.
Plan on roughly three beverages per person. Remember that people often have coffee after dinner, as well as throughout the day. (People tend to have a cup every hour and a half or so.)
The larger the variety of whatever you are serving, the smaller the portions should be, so that people can have a little of everything but not waste too much.
For a breakfast, plan on one main entree and two sides, and two beverages. If you're serving only pastries, assume two pastries per person.
For lunch, assume one entree, and 2-3 sides (this includes a dessert if you're serving one.) If you're offering hors d'oeuvres, plan for 2-4 per person.
Dinners are usually heavier than lunches, so the entree is generally a little larger. In addition to 2-3 sides, you'll also want to offer small portions of soup, bread, or salad.
This is just a small selection of general tips to help you in the preliminary stages of planning the meals for your event. If you have any specific questions, please don't hesitate to contact us. We'll be happy to answer your questions and provide you with a detailed quote.
Silver Spoon began as a family-owned business in Fairfax sixteen years ago. We take immense pride in knowing that we've been able to make your special event a success! We strive to be the very best caterers in the business. Whether you're planning an indoor concert hall or outdoor backyard wedding we can help! We have the staff and experience to make it a success!