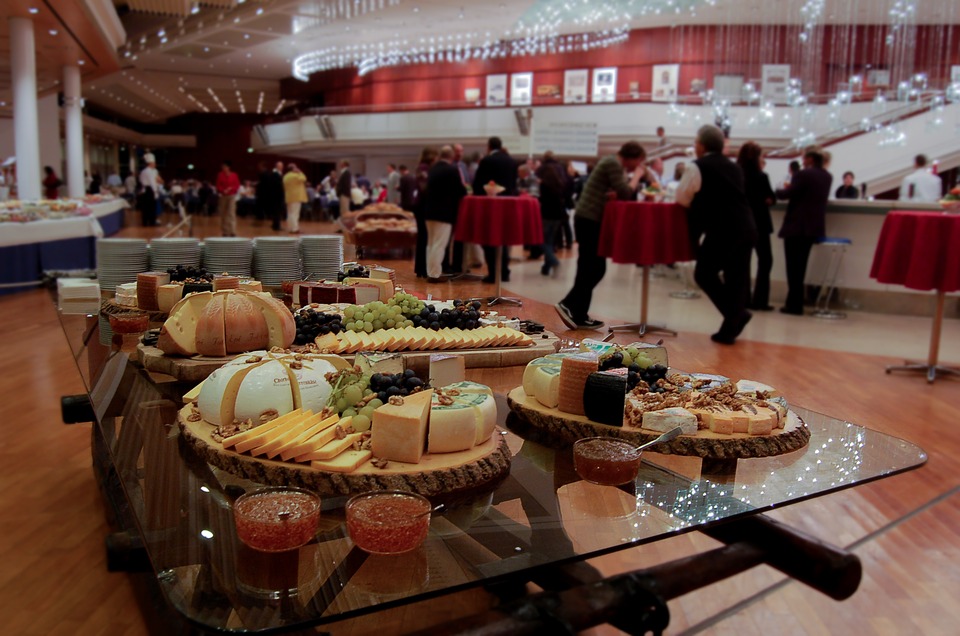 As Covid19 numbers decline many businesses are welcoming their employees back into their offices, as well as planning corporate events. Although the corporate world is not 100% back to normal, many people are eager to get out of their house and back to networking to promote their business or look for partners that can help their business.
Networking with Covid19 adds additional complexities to hosting a networking event. Along with complying with vaccine mandates and whether to require masks, you must plan for how you will handle drink tickets, what kind of food and drinks to serve as well as activities to get people "mingling".
Attending a networking event can be exciting and stressful all at the same time. Hosting an event is still exciting, but can be a lot more stressful. One of the easiest ways to reduce your stress level is by hiring a full service caterer to handle all of your drink and food preperation, serve guests and handle all the clean up.
When working with a corporate event caterer to plan the menu, do what you can to make the eating easy on your guests. Here are a few food items to avoid serving or consuming at your next networking event. Avoid the embarrassment of broccoli in teeth or bolognaise on sports coats.
Avoid:
Items that feature heavy, bold sauces like ribs or spaghetti;
Items such as pastry covered in powdered sugar;
Items that contain seeds (A poppy kernel isn't the best accessory.);
Items that require the use of a fork and knife.
Instead, opt for bite-sized items that can be eaten easily with a toothpick or fingers; serve lighter pasta dishes (Think penne or ziti in an oil-based sauce.); and offer guests the choice of a plate or a bowl. You want your guests to mingle and make connections, to eat and enjoy themselves. The key is convenience. Stage the space with plenty of napkins. And don't forget about the trash; make sure bins are plentiful.
Planning a networking event that needs catering in Northern VA? Consider the menu options available from Silver Spoon Caterers:
Coconut shrimp (made with white rum and coconut milk)
Lump crab empanada (made with puff pastry)
Mini crab cake (served with a lemon-garlic aioli)
Signature meatballs (all beef, served with client's choice of Cran-BBQ, Romesco with Manchego, or Teppanyaki sauce)
Caribbean chicken skewer (marinated in Caribbean spices with grilled pineapple)
Asparagus & Phyllo (hand rolled filo with ricotta & Parmesan)
Garden Mushroom Tart (made with shitake & crimini mushrooms and manchego cheese)
Mini Zucchini Cakes (served with an herb aioli)
Fresh Fruit & Cheese Platter (artisan display of seasonal fresh fruits and a variety of international and domestic cheeses with crackers
Our carefully curated menu and well trained staff have what it takes to make a networking event hassle-free. From hairnets to nitrile coated gloves our staff will provide the best hospitality and service for your event.
A family, minority, & woman operated business since 1997, Silver Spoon Caterers serves the social and corporate communities of Northern Virginia and the D.C. metro area with determined care and expertise. From major social functions to fundraising galas; national conventions to intimate gatherings; corporate meetings to community celebrations, Silver Spoon takes pride in executing unique events, giving our clients unbeatable value and lasting memories.
Silver Spoon Caterer's mission is to build a growth-oriented company focused on positive partnerships with clients, venues, staff, management, owners, vendors, and the community. Our main goal is to succeed as a team-oriented business, producing and serving a high quality product with a commitment to excellence in service, planning, and quality. We strive to be the "Best Of" in all aspects of our business. Our positive partnerships within the industry have become our proven "recipe" for success.
Call SilverSpoon Caterers in Fairfax, Virginia, at (703) 935-4531 for more information about our catering services.