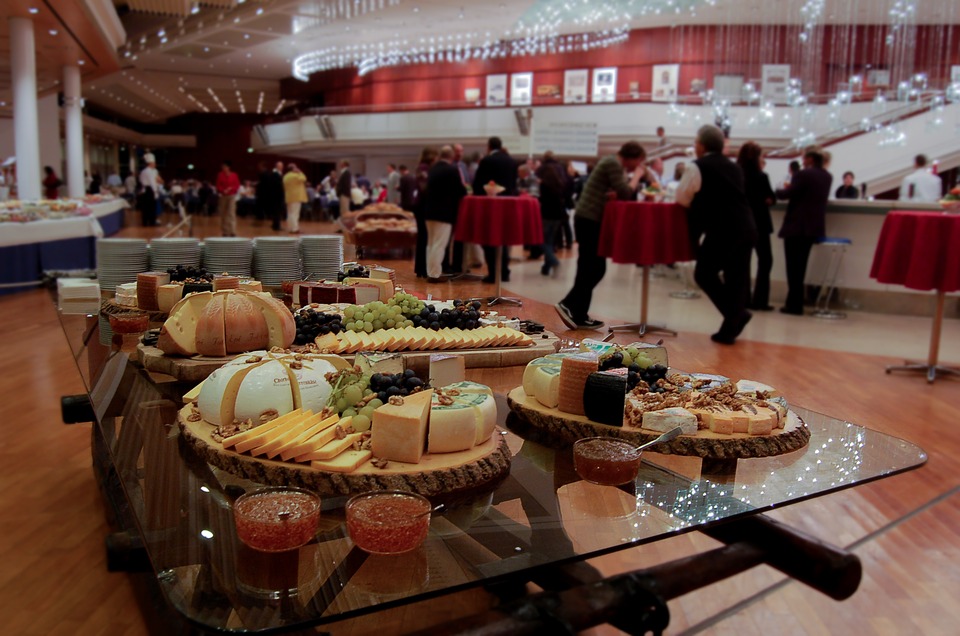 Juggling drink tickets, making small talk, being careful not to spill anything, trying not to say anything embarrassing…
Networking events offer a myriad of pitfalls as well as opportunities. Attending a networking event can be exciting and stressful enough. Hosting an event is still more exciting and stressful.
How can you host a successful, comfortable event for guests? One of the many elements is choosing the caterer with care.
When working with a corporate event caterer to plan the menu, do what you can to make the eating easy on your guests.
Here are a few food items to avoid serving or consuming at your next networking event. Avoid the embarrassment of broccoli in teeth or bolognaise on sports coats.
Avoid:
Items that feature heavy, bold sauces like ribs or spaghetti;
Items such as pastry covered in powdered sugar;
Items that contain seeds (A poppy kernel isn't the best accessory.);
Items that require the use of a fork and knife.
Instead, opt for bite-sized items that can be eaten easily with a toothpick or fingers; serve lighter pasta dishes (Think penne or ziti in an oil-based sauce.); and offer guests the choice of a plate or a bowl. You want your guests to mingle and make connections, to eat and enjoy themselves. The key is convenience. Stage the space with plenty of napkins. And don't forget about the trash; make sure bins are plentiful.
Planning a networking event in Fairfax VA?
Consider the menu options available from Silver Spoon Caterers:
Coconut shrimp (made with white rum and coconut milk)
Lump crab empanada (made with puff pastry)
Mini crab cake (served with a lemon-garlic aioli)
Signature meatballs (all beef, served with client's choice of Cran-BBQ, Romesco with Manchego, or Teppanyaki sauce)
Caribbean chicken skewer (marinated in Caribbean spices with grilled pineapple)
Asparagus & Phyllo (hand rolled filo with ricotta & Parmesan)
Garden Mushroom Tart (made with shitake & crimini mushrooms and manchego cheese)
Mini Zucchini Cakes (served with an herb aioli)
Fresh Fruit & Cheese Platter (artisan display of seasonal fresh fruits and a variety of international and domestic cheeses with crackers
Our carefully curated menu and well trained staff have what it takes to make a networking event hassle-free. From hairnets to nitrile coated gloves our staff will provide the best hospitality and service for your event.