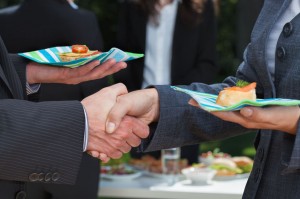 You've got an important business luncheon on the calendar: the first you'll have planned for your company after receiving that long-anticipated promotion; you canNOT screw this up. If there ever was a time to be over-prepared, this is it.
The where, you've got figured out.
All who will speak at the event know where and when to be.
Linens and tables and chairs, check.
The 'from whom will the food come' is settled, of course:
So that's it, right?
Well, I can't speak to the logistics of event planning, but I can tell you this: When you let Silver Spoon Caterers do the cooking for your next corporate luncheon, we'll work with you to plan the perfect menu that's just the right mix of casual and extravagant, and sure to impress your colleagues and clients.
But that's not exactly IT when it comes to a successful corporate luncheon:
There's also manners, and behavior best practices. Keep these important tips in mind when planning your next corporate luncheon in northern Virginia.
Brush up on your guests' business.
What does he do? Why, specifically, did she go out of her way to come to your corporate luncheon in Fairfax? Do you homework, so you can speak with confidence about your guests' business and current industry trends.
Don't assume you'll leave the event as best friends.
Just because you and a business guest hit it off at your corporate luncheon doesn't mean it's appropriate to invite her out for drinks the next day. Keep your business relationships all business, all the time.
Watch what you say about the competition.
Sure, your company is hosting the event for the sole purpose of convincing prospects to bring their business to you. The talk is all about the benefits and value you provide for your clients and customers; it should stay that way. Never speak ill of your competition.
Never ever talk with your mouth full.
Mama raised you better than that. It seems like common sense, but you might be surprised how many otherwise incredibly successful executives never learned that it's a no-no to talk with food in your mouth. To avoid this faux pas at your next corporate luncheon, take small bites, and only speak when you've swallowed.
Be kind to the catering staff.
How you treat the help speaks volumes about your character. The goal of your corporate luncheon is to impress your clients and guests; if you're rude to the catering staff, trust us when we say you'll impress no one.
Planning a corporate luncheon in Fairfax VA?
Call the corporate event catering experts. Call Silver Spoon Caterers.