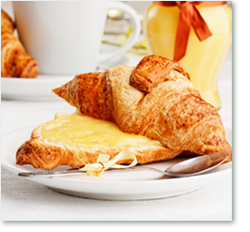 Catering isn't just for lunch or dinner! Breakfast or brunch catering provides a welcome change for corporate events, bridal showers, baby showers, birthday parties, and more. In addition to providing your guests with the energy needed to complete their day, breakfast makes it easy to accommodate a variety of dietary restrictions.
Silver Spoon Catering offers breakfast catering for events of all shapes and sizes. We offer a variety of options including several gluten free and vegetarian choices. The following are some of our most popular breakfast menu items.
American Breakfast
This gluten free classic is sure to be a hit at your next event. Our American Breakfast includes scrambled eggs, delicious local chicken apple sausage links, apple wood bacon, our fabulous red pepper home fries, and a variety of condiments. Add an optional golden Challah French toast slice with maple syrup and butter for just a few dollars more.
The House Assorted Breakfast Pastries
Provide your guests with an assortment of freshly baked pastries. Options include organic yogurt muffins, bagels, croissants, seasonal breakfast breads, coffee cake, and scones. Our pastries are served with butter, cream cheese, and preserves.
Quiche 
Quiche is the perfect dish for breakfast and brunch. This delicious pie serves six to eight people and can be made gluten free by omitting the crust. We offer five vegetarian options including Kale Parmesan with red and yellow peppers, Three Cheese with manchego, chevre, and cheddar jack, and Caprese with fresh mozzarella, demi sec tomatoes, and fresh basil. We also offer a Maryland Crab and an Apple Wood Bacon Quiche.
Breakfast Sandwich and Breakfast Burrito Combo
Can't decide what you want to serve for breakfast? Our Breakfast Sandwich and Breakfast Burrito Combo features a variety of our popular Sunrise Sandwiches and Breakfast Burritos served with salsa. This combo includes a fresh fruit bowl, and your choice of bottled water, juice, or house roast coffee.
Silver Spoon Caterers offers a wide selection of menu options. We provide catering services for all types of events throughout Northern Virginia and the DC metropolitan area. Please contact us for more information about breakfast catering.