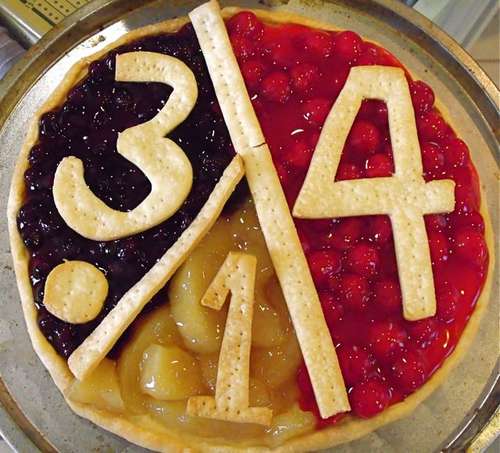 Do you like pi? Um, we mean pie. No, Pi. Yes, yes. Pie. Do you like pi? What about pie?
Confused yet?
Don't be.
Tomorrow, March 14 is a very special day. Maybe it's your wedding day. Maybe it marks one week, or two, or one month until your wedding day. Maybe it's just another Saturday in northern Virginia. Or maybe — wait, no maybe. This we know to be true. Tomorrow is PI DAY. (Ahh, it all makes sense now, right? It wasn't that we couldn't spell; it's that we love numbers almost as much as we love food. Almost.)
Hold on a second, Silver Spoon. What is pi?
Pi is the 16th letter of the Greek alphabet, and as such, a numerical constant that represents the ratio of a circle's circumference to its diameter, commonly approximated as 3.14159. Did you notice what we did? There's something extra special about Pi Day this year: 3 14 15.
This occasion befalls but once a century, especially special. Just like your own wedding day.
So here we bring the two together.
Seven Delicious Ways to Make Your Wedding Sweet as Pi[e]
Serve one pie per table.
It may be easier, less expensive (and maybe even tastier) to buy several small pies than one large wedding cake. Miniature wedding pies placed on each table make a fun alternative to the traditional dessert.
Serve mini pies.
Pass around platters of miniature-sized desserts in different flavors.
Serve pie pops!
What a great way to put a new twist on the trendy late-night wedding snack. Filled with fruit and crimped on the sides, these darlings give guests a much-needed sugar boost, and help them keep up the boogie.
Serve fruit cups.
These light-as-air cream-filled cups make a perfect treat for the wedding guest who enjoys a little dessert…
before dinner.
Serve fruit crumbles.
Brunch wedding, anyone? This dessert starts the day off right!
Serve pie in a jar.
Who doesn't love a good Mason jar? Add pie, and you've got an instant hit.
Serve a whoopie pie.
Originally an Amish tradition, historians say that wives used to bake these "hucklebucks" for their husbands and put them in their lunch boxes. When it was time for lunch and the lucky guys discovered the packed treat, legend has it that they'd shout, "WHOOPIE!"
Celebrate Pi Day. Serve pie on your wedding day.
Let the Silver Spoon Caterers team provide you a creative and custom menu that will make you and your guests happy and full (of pie, on this Pi Day, and any other day).