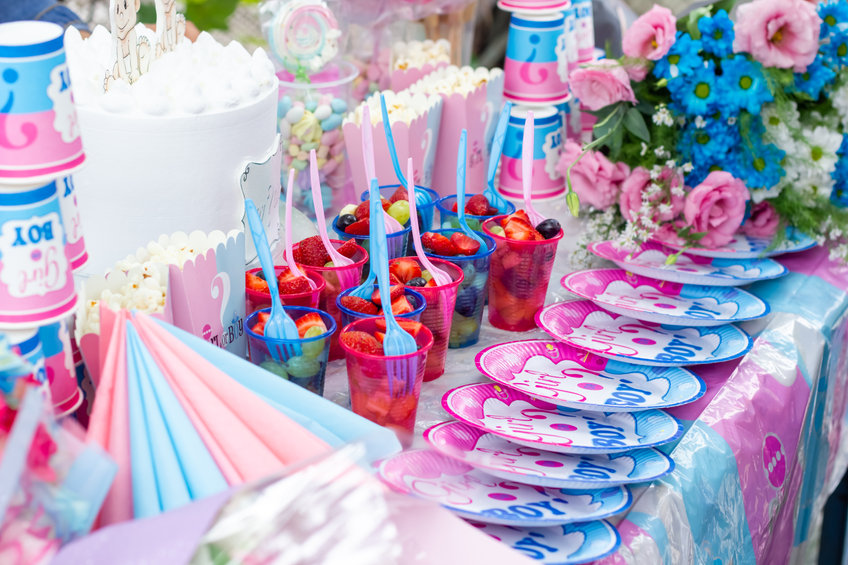 A baby shower or gender reveal is a joyful gathering that encourages people to eat and be merry. Regardless of the seating style, your guests will appreciate the opportunity to celebrate, relax, and catch up with friends and family. Be sure to plan a large variety of foods so that there is something for everyone. Offering a variety of foods will ensure that there are no awkward moments for the vegetarian cousin or neighbor with celiac disease who cannot find anything suitable to eat.
As the shower host, your first consideration should be to the mom-to-be. Don't forget that during pregnancy, many foods are temporarily off-limits. These include alcohol, undercooked meats, fish, eggs, soft cheeses, and lunch meats. While many of these things can be included in your menu, you'll want to make sure that the guest of honor is taken care of.
There are so many ways to create a crowd-pleasing menu that will provide for everyone in attendance and make sure that your event is a memorable experience for both you and your guests.
Here are a few things to keep in mind in the planning process.
Keeping Things Casual
When planning your event, consider choosing a time of day that is not traditionally reserved for a large meal. By doing this, you can offer your guests appetizers and portable food choices that are both simple and delicious. A sample menu for this style of event may include:
· Tea, coffee, water, or juice
· Charcuterie platters with a variety of meats, cheeses, and crackers
· Seasonal fruit trays
· Finger sandwiches
· Various hors d'oeuvres
· Deviled eggs
· A selection of desserts
This is a good idea for several reasons. Giving your guests a choice of different foods allows them to pick options that suit their tastes and dietary preferences. Another benefit is that it reduces the amount of plates and flatware that you will need. This can help you stay within your budget while providing your guests with food prepared by professionals.
Offering a variety of finger foods will help make sure that there will be something delicious for all your shower guests to eat. You should speak to your caterer ahead of time so they know you are including options that will suit both picky eaters and those with dietary restrictions.
It's a good idea to offer five or more different foods and plan for enough food so that each guest will have at least two items each to eat. It is always a good rule of thumb to have more food to offer than not enough!
Spread Things Out
When you have a large group gathered in one space, it's a good idea to spread out your food offerings throughout the party room. This allows your guests the chance to mingle and still have an opportunity to pick up different food offerings as they pass by the various platters around the room. Your guests will be more likely to move about the room freely, rather than gathering in one space. And by spreading out the food around the party space, you all but eliminate the chance that a line will build up for the "food line." This will keep the party flowing and make sure that everyone will have a chance to sample the delicious foods that you have chosen.
A Traditional Approach
For a more traditional approach, you may prefer to host your shower at a regular mealtime and serve your guests a full meal. You can choose whether guests will be served their meal or walk through a buffet line.
If you opt for a more traditional sit-down style event, the right professional caterer will be more than happy to help you create a menu that will be crowd pleasing and delicious for all tastes and preferences. A sample menu for a sit-down shower or gender reveal may look something like this:
· Water, coffee, or tea
· Salad
· A choice of entrée for both meat eaters and vegetarians
· Fresh bread or rolls
· A dessert
Keep in mind that when choosing a sit-down meal option, you can still offer your guests appetizers that can be spread out around the room before the meal is served, allowing them plenty of opportunities to mingle with each other.
A Classic Shower Theme
You can never go wrong with simple, classic styling for your baby shower or gender reveal. A classic theme is a great way to include your color scheme into your event through items like colored cake, cupcakes, or cookies. This way, your menu remains elegant and classic while still presenting your guests with some flairs for this big day.
The decision to host a casual or sit-down event really comes down to your personal preference. Whatever you decide, it's a good idea to speak with your caterer about your food, drink, and serving options.
Hire The Right Caterer
Planning a baby shower or a gender reveal celebration involves a lot of moving parts. One way to add a touch of elegance and make your celebration a successful event is to hire a professional caterer to handle the menu. Not only can you customize your menu, but as the host, you will be free to leave the planning, shopping, and prepping of the food to the catering staff so that you can relax and enjoy the festivities.
Choosing a professional to cater your shower will allow you to focus your energy on the many other tasks that an event host takes on. Whether you decide to offer casual appetizers, a buffet, or a full-service meal, the experienced catering professionals you've chosen are prepared to handle every aspect of your event from start to finish. When it comes to planning the menu for your event, you can make choices that fit perfectly within your budget, the time of your event, theme, location, and food sensitivities. Even if you are a professionally trained Chef or work in the food industry, you don't want to spend your time prepping and serving food, you want to sit back and enjoy the day. Hiring a professional caterer will make this part of your party planning simple and enjoyable! Silver Spoon Catering is that right professional caterer. Contact us today to book your ba