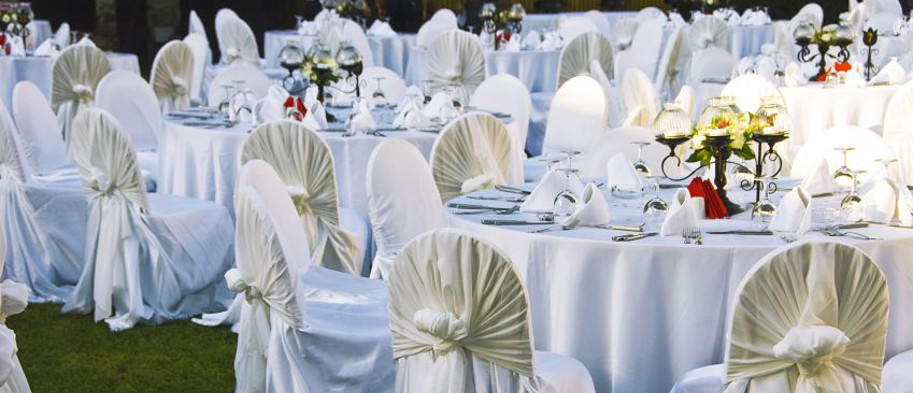 Your wedding day is one of the most important days of your life, and you shouldn't settle on a mediocre wedding cake just because you can't decide what you want! It's always a good idea to take a look at what's trending to help inspire you so you can choose the best cake for your wedding day.
Since it's been almost four years since our last article on wedding cake trends in 2019, we wanted to come back and take a look at what's going on in the world of wedding cakes in the upcoming year.
Big Cakes
A lot of couples seem to really be sticking to the idea of "go big or go home" in their wedding, especially regarding their cake! Some of these massive multi-layered cakes can reach up to five feet tall and can have a different flavor in each layer.
This is great for weddings with lots of guests because you can be sure that there's something for everyone to enjoy. It is worth noting that with a cake so enormous, there will be a lot of preparation involved in making sure it's stable and getting it where it's supposed to be. Often, it requires a whole team just to get the cake to the venue safely.
Semi-Naked Cakes
One trend that can suit just about anyone's wedding style is the semi-naked cake. Having only a thin layer of frosting on the outside, these cakes can be decorated according to the theme of any wedding and still look fantastic.
Many couples choose this kind of cake for the visual appeal, while others choose it because they aren't a fan of frosting but still prefer a bit of it over a fully naked cake. Whatever the case, these cakes are a great choice for any wedding, no matter the taste of the couple or their guests.
Boho Cakes
A boho-themed cake adheres to a more natural, free-spirited look that can pair wonderfully with a vintage-themed wedding. They usually incorporate gold flakes, neutral, and earth-toned colors, differing textures, and lots of floral elements. There is still so much variation available, though, that a boho cake is a great decision for couples who aim for a more earthy but still classy vibe for their wedding. The sky really is the limit with these cakes, because you can tie in a boho theme for a cake of any size or shape.
Birchwood Cakes
With a vanilla frosted exterior and designs that make it look like a piece of wood cut straight from a birch tree, birchwood cakes are a fun choice for couples with a rustic theme to their wedding, especially if their venue is a barn or a cottage.
Many couples also choose to have their initials "carved" into the tree-like cake for a classically adorable touch. Not only do these cakes perfectly suit a laid-back, nature-loving couple, but they can also be dressed up to bring a bit of natural flair to a more formal wedding.
Colors for a Wedding Cake
So many couples these days are opting out of the traditional white wedding cake and going for something brighter and more out of the box. Some of these colors are still light-colored and fit the expectation for a wedding cake: pastels, blush pink, champagne, or "dusty" versions of other colors. However, some couples choose something very different and go with darker colors like navy, teal, or burgundy for their cake. These colors can be the base for the whole cake or just sprinkled in as a detail, but they're guaranteed to make your cake stand out.
Cake Toppers
In addition to untraditional wedding cake colors, a lot of couples are also leaning towards wedding cake toppers that are out of the norm. Instead of the classic bride and groom cake toppers, we're seeing the couple represented as animals or video game characters. Or, rather than having themselves on the cake at all, some couples choose funny quotes and sayings to put on top of their wedding cake. We've entered an era of more casual, comfortable weddings, and cake toppers seem to be reflecting that.
Hire the Right Caterer
Whatever style of cake you choose for your wedding, it is absolutely essential that you pick the right caterer to make it for you. At Silver Spoon Caterers, we absolutely love getting the chance to work with you on your wedding cake design and make sure everything is exactly the way you want it to be on your special day. Contact us now for more information about our wedding cake catering services!