Prince William County Corporate Catering
About Silver Spoon Catering
Silver Spoon Caterers is completely committed to customer satisfaction, accommodating all dietary restrictions including vegetarian and gluten-free. Since first entering the corporate catering industry in 1997, Silver Spoon Caterers has always prided ourselves on providing clients an unmatched culinary value for events. Our creative Prince William County corporate catering professionals take clients through the process step-by-step, starting with menu creation to setup and serving.
Family-owned and operated since first opening for business over ten years ago, Silver Spoon Caterers knows first-hand how tough it is to pick the right corporate catering company in Northern Virginia.It is important to hire an skilled Prince William County corporate caterer to ensure that business events are both succulent and successful. As companies strive to make the best impression when hosting any type of work-related gathering, the details always matter; regardless of whether it is a simple luncheon or lavish holiday gala.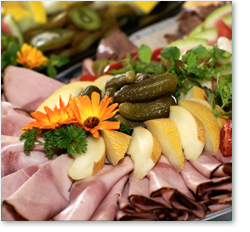 Many Types of Menus Offered
Breakfast Buffets
Boxed Lunches
Happy Hour Treats
Appetizer Galas
Board Dinners
Commemorative Company Events
Corporate Conferences and Meetings
Holiday Events
Buffet-Style Catering
Silver Spoon Caterers makes it a priority to craft superior dining options using the highest-quality foods. Providing superior planning, service, and overall taste is the cornerstone of our success. Our corporate catering team in Prince William County is consistently striving to exceed client expectations, providing tasty bites for all occasions. Contact Silver Spoon Caterers today at 703-997-6435 to find out how we can add a our "recipe" for excellence to your event!
Contact Us Today