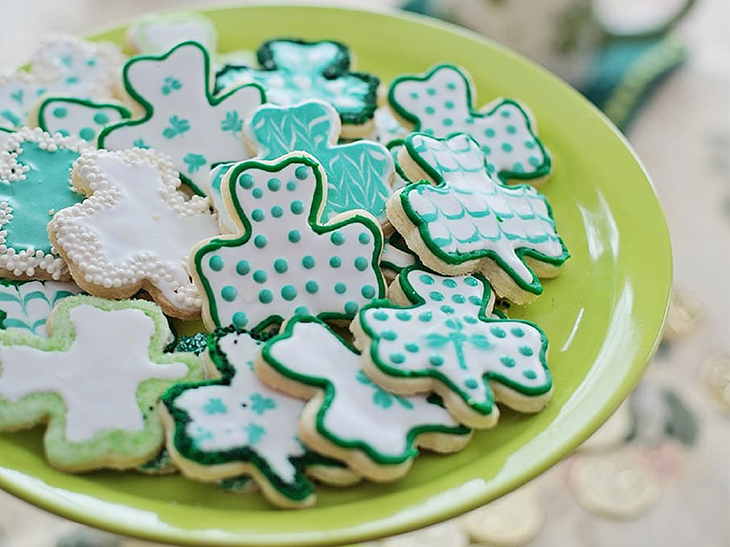 Everyone loves a good party. Although it might not be possible to throw a full St. Patrick's Day celebration in your office, providing a special treat lets your staff know you appreciate all that they do. Providing staff with a catered meal not only helps keep them motivated and alert throughout the day, it also helps improve your bottom line. Corporate catering increases employee satisfaction, reducing turnover rate and increasing staff productivity. When staff members feel valued and appreciated, they're much more likely to work harder.
St. Patrick's Day is all about good luck and good food. This makes it the perfect holiday to celebrate in the office. Silver Spoon Caterers can help you create a catering menu your office won't forget. We provide several different menu options and choices, including options for those with special dietary needs or restrictions. Our staff handles everything for you, allowing you to continue doing what you do best.
Although we always encourage our customers to let their imagination guide their choices, the following St. Patrick's Day office catering ideas can help get you started.
Office Participation
Although this doesn't have to do with food, getting the entire office involved can build excitement and set the stage for a successful (and productive) day. Encourage staff to wear green on March 17th. You can even offer a small prize like chocolate coins to the staff member that wears the most green.
Consider hanging simple decorations around the office like green shamrocks cut out of construction paper. You can also put out Irish Crème flavored coffee creamer by the coffee pot for an extra special treat.
Focus on Green When Selecting the Food for Your St. Patrick's Day Office Event
Consider serving green and Irish themed dishes when selecting the catering menu for your St. Patrick's Day event. Salads, spinach wraps, and corned beef sandwiches all make excellent choices. If you don't want to serve an entire meal, consider colorful fruit or vegetable trays set out on green tablecloths.
When you work with Silver Spoon Caterers, we work directly with you to help plan the perfect meal. Please let us know when calling that you're planning a St. Patrick's Day office event. Our staff will take the time to listen to your requests and help you plan your catering menu.
We Take Care of the Hard Stuff
Office parties take a lot of planning. In addition to planning menus and working around office schedules, there's a lot of set-up and clean-up the day of the event. Hiring a catering company allows you to focus on your business, instead of planning your event. An experienced corporate caterer like Silver Spoon Caterers, helps plan the menu, prepare the food, and can even help with set-up and clean-up after the event.
DC Area Office Catering
Silver Spoon Caterers offers corporate catering services for office parties, luncheons, corporate events, and more. We offer office catering to businesses located throughout the Washington Metropolitan Area. Please contact us for more information about our office catering services.