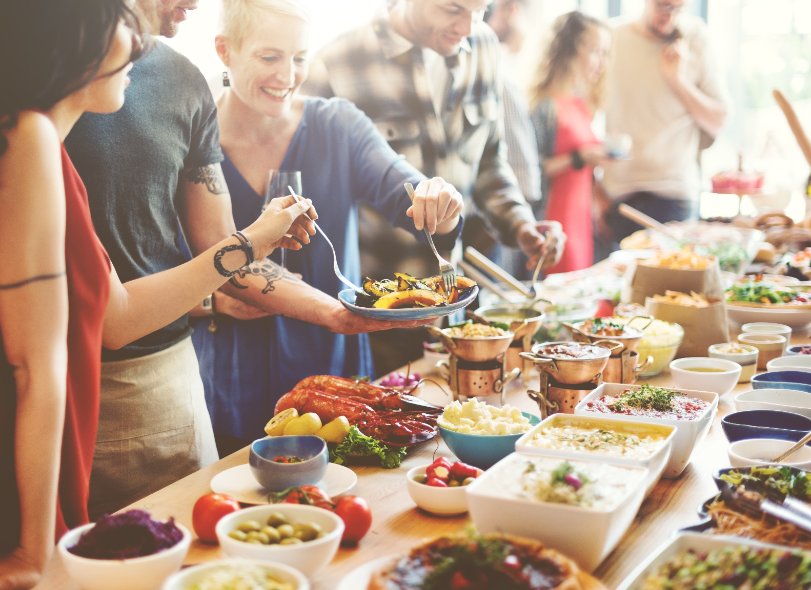 Whether you are trying to find the perfect menu for your wedding, or something new and different for your spouse's 50th birthday, choosing the right food can be difficult. But, it doesn't have to be.
For quite some time, health experts have been trying to show us the health patterns of those who live in Mediterranean regions such as Spain, Greece, and Southern Italy. Beyond just the health benefits, Mediterranean food is beloved around the world for its bold, mouth-watering flavors.
Let's take a look at how you can add some Mediterranean flair to your event that will have people talking.
Things to Know About Mediterranean Catering
When looking to add some delicious  Mediterranean-style foods to your upcoming event menu -, there are a few things that you need to consider before deciding on your options.
Healthy Doesn't Have to Mean Bland
Just because you are throwing a party doesn't mean it has to be all potato chips, pizza, and hot dogs. Mediterranean food brings a ton of bold flavors, while being extremely healthy for you and your guest in multiple ways.
Mediterranean food consists of healthy ingredients, while also containing lighter meat choices such as poultry and seafood. It also contains a healthy amount of vegetables, fruits, whole grains, and brown rice. In a variety of ways, these healthy recipes combine ingredients in both creative and delicious combinations.
Some of the easier combinations that many start with when looking to add some of that Mediterranean flair are avocado bruschetta, falafel, Greek salad, or a kabob platter. Whatever your thinking, there are plenty of options to give you guests for any occasion.
Vegetarian Options
First, make sure that you are providing at least one vegetarian option, and catering to the vegan diet is also a good idea.
Include Healthy Choices
Depending on the event, some guests might be up and moving around, possibly dancing. This is where healthier and lighter options come into play. With as many delicious healthy options Mediterranean foods provide, you can be sure you aren't weighing anyone down.
Consider Drink Pairings
Certain drinks and wines just taste better with certain foods. With the options of seafood, chicken, and lamb, Mediterranean foods can be easily paired with your drinks and wine choices.
Clean Eating
You want to make sure that at least some of your event or party foods are able to be easily handled and consumed so there is not much spillage and mess. A spilled pasta sauce or dripping sandwich can really ruin someone's evening.
Mediterranean Catering ChoicesThere are many foods that you can choose to add that bold, tasty Mediterranean flavor to your menu, but here are a few recipes and options that your guests will love.
Mediterranean Orzo Salad
If you are looking for something to replace the boring old pasta that gets served at many a wedding or birthday party, the Mediterranean Orzo Salad is the perfect substitute. Refreshingly vegan, this salad contains bright cherry tomatoes, herbs and of course, olives.
Grilled Chicken Souvlaki & Tzatziki Sauce
For those who are looking for more protein in their catering options, souvlaki is a beloved Greek dish because of its bold flavor. Souvlaki is skewered, making it very easy to eat without making a mess. When you add the zesty tzatziki sauce that Greeks usually use on either pita bread or souvlaki, you will pack a savory punch to every bite.
Kolokithokeftedes
These zucchini fritters are made with olive oil, feta cheese, and spiced with dill. A light, crispy appetizer that has become very popular for any number of catered events.
Baba Ganoush
This Mediterranean staple is made with eggplant, tahini, garlic, olive oil and lemon, your guests will be heading back to the table with more pita bread, or chips to keep the dipping going all night long.
Goat Cheese Stuffed Grape Leaves
Extremely nutritious and healthy, grape leaves with their mild, tangy taste stuffed with the creaminess of goat cheese is a hit at any occasion. As with the souvlaki, stuffed grape leaves are easily handled and leave little to no mess.
Remember, wedding or event food can be a real make or break issue for guests. With this in mind, opting for a Mediterranean cuisine for your upcoming event can offer a crowd-pleasing menu full of popular options for everyone.
Contact Silver Spoon Catering to get the party started with some sampling so you can craft the perfect menu.