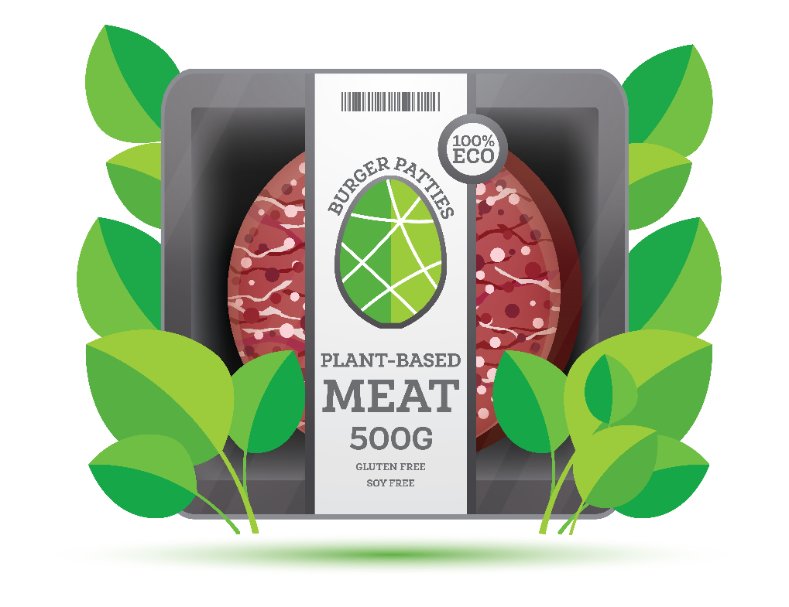 Plant-based eating may have been considered a religious or fringe practice in the past, but it has become very mainstream today. Companies that cater to a plant-based lifestyle are growing at a rapid pace.
Consumers who follow plant-based diets are hungry for healthy, sustainable, delicious food free from animal products. The following companies deliver for those on a plant-based diet.
Amy's Kitchen Inc.
Amy's Kitchen has been producing nourishing and satisfying plant-based foods since 1987. Amy's pre-made foods are staples for many vegetarians and vegans. Amy's kitchen produces shelf stable and frozen plant-based meals and has a catalog of over 250 foods created with organic, non-GMO ingredients.
Archer-Daniels-Midland Company
Archer-Daniels-Midland Company (ADM) has been influencing the way plant-based products are delivered to consumers for over 100 years. They specialize in transforming plants into the products that plant-based consumers are looking for. In 2022, ADM is one of the world's largest companies producing alternative plant-based products.
Beyond Meat
The Beyond Burger is considered one of the best meat alternative burgers on the market. Its claim to fame is that it looks and cooks like a real meat product. Beyond meat products are found next to real beef products in grocery store meat cases. Beyond meat is a complete protein source made free from GMOs, soy, and gluten.
Daiya Food, Inc.
Daiya foods was founded by two friends who shared the idea that plant-based eating was better for our health, the planet, and animal welfare. The company began by creating dairy-free alternatives made from plants. Daiya's most popular products are its mozzarella and cheddar style shreds that have been acclaimed for their similarity to animal-based cheeses.
Tofutti Brands, Inc
Tofutti is a well-known plant-based company that has been serving customers since 1981. The company produces dairy-free frozen treats, sour cream, and cheeses. Tofutti Brands caters to consumers who are lactose-intolerant, vegan, and kosher. The company's plant-based ice cream sandwiches are wildly popular among dairy-free eaters. They replicate the texture and flavor of these beloved dairy treats.
Plamil Foods Ltd.
Plamil Foods is a British food company that is committed to producing products that are made entirely with animal-free ingredients. The company believes that the people who consume its food should enjoy it without having to worry that the products contain something that they need or want to avoid.
Danone SA
Danone began producing yogurt in Spain in 1919. In 2017, the company purchased WhiteWave and began offering plant-based products and beverages made from soy, almonds, coconuts, rice, and oats. The company also offers plant-based alternatives to yogurt and cream.
Eden Foods, Inc.
Eden Foods began in 1969 and is the oldest natural and organic food company operating in North America. More than 90% of Eden's products are sold in co-ops, natural food stores, and supermarkets. Eden's most popular products include its EdenSoy range of organic soy milk and its Japanese food staples.
Vbites Food Ltd
Vbites is a UK-based company that has been producing plant-based meat alternatives since 1993. Vbites is focused on sustainability and produces products that deliver the taste and texture of meat, fish, and dairy products without the dietary, environmental, and agricultural welfare concerns of animal-based products.
Vitasoy International Holdings Ltd
Vitasoy is a Hong Kong-based beverage company that has been producing GMO-free, soy-based products since the 1940s. The company began producing soy milk and has expanded to include beverages such as tea, soft drinks, and tofu. Decades after its inception, Vitasoy remains committed to providing sustainable products that are good for its customers and the planet.
Call Silver Spoon Caterers for Your Next Event
Silver Spoon Caterers is the premier choice for private catering for weddings, parties, corporate events, and more. Our experienced team creates delicious spreads to suit any diet or food preference, and we will work hard for you to ensure the safety and satisfaction of every guest. If you want to discuss our Vegetarian and Vegan options, or hear more about how we can make your next event a success, contact us today.