Ashburn VA Corporate Catering
Silver Spoon Caterers has been a family-owned and operated business since 1997, so we know just how difficult it can be to choose the right Northern Virginia catering company for a corporate event. Businesses always want to make the best impression leaving much to consider during the planning process; no matter whether one is hosting a simple luncheon or elegant company gala, finding the Ashburn VA caterer that will handle all the details is the real "recipe" for success.
Boasting over a decade of experience in the corporate catering industry, Silver Spoon Caterers is committed to crafting sweet and delicious events. Our creative Ashburn VA corporate catering team coordinates all of the details for clients, from menu creation to setup and serving. Silver Spoon Caterers is so devoted to providing the highest value to customers, that we can accommodate any menu or dietary request including vegetarian and gluten-free.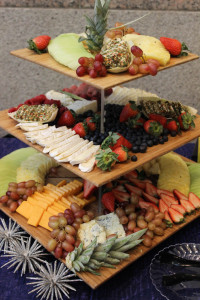 Types Of Ashburn Catering Services
Full-Breakfast Buffets
Boxed Lunches
Happy Hour Bites
Appetizer Soirees
Board Dinners
Special Company Events
Executive Conferences
Holiday Parties
Buffet Catering
About Silver Spoon Caterers
Silver Spoon Caterers was founded in 1997. Since then we have provided quality Event Catering & Corporate Catering services for a wide variety of clients in the Washington D.C. metro area. Whether you need a quick lunch for 10 people, or a banquet with 10,000 guests, Silver Spoon Caterers is your one-stop catering company.
We take care of all the details, from preparation to clean up. Our prices are disclosed up front in your event contract, and we do not impose hidden charges. Our food reflects our commitment to exceptional quality, which has made Silver Spoon Caterers one of Ashburn, VA top catering companies.
Our goal at Silver Spoon Catering is to provide unparalleled service to our customers with high standards for our quality food. We pay diligent attention to every detail and always provide an immaculate environment. Our goal is to continue to raise the standards for catering excellence each and every day.
Contact Us Today